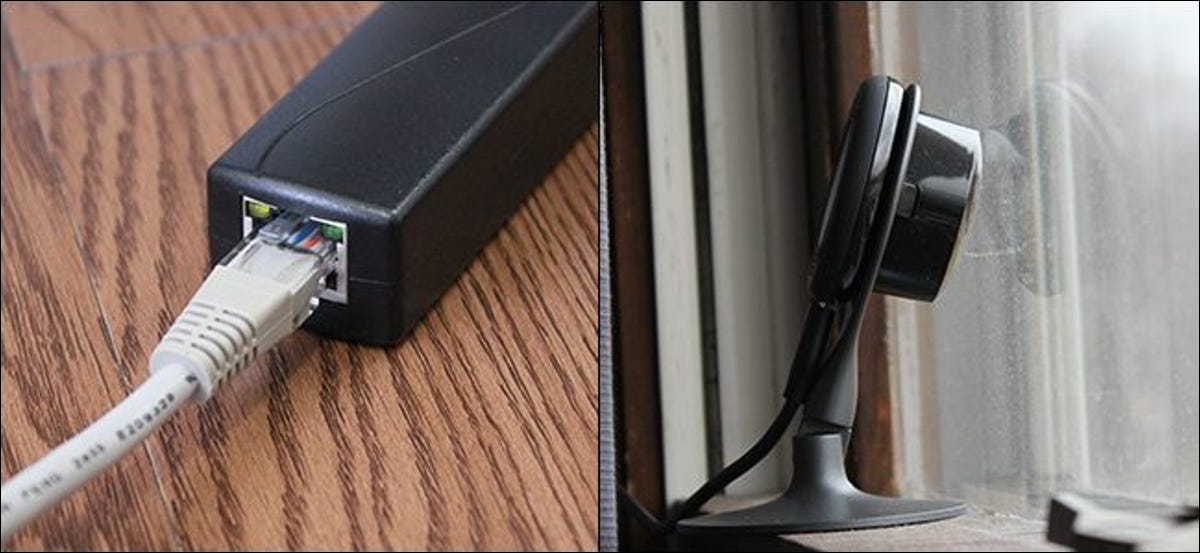 Many devices—like Wi-Fi cams—get power by being plugged into a nearby outlet through USB. But if you want to place that device?somewhere where an outlet isn't nearby, you can use existing ethernet drops (or run ethernet yourself) to power the camera using a handy adapter.
  RELATED: How to Set Up the Nest Cam
  Keep in mind that some?devices will?already come with ethernet built in, which is used to both power the camera and connect it to your local network or the internet. Others, like Wi-Fi cameras, will?only get power from a USB cable that's plugged into an outlet using a power adapter. But if you have a house wired for ethernet with cables going everywhere, you can free up an outlet and use ethernet instead.
  Before you get started, you need to make sure your ethernet lines support power over ethernet.
  What Is Power Over Ethernet (PoE)?
  As mentioned above, most wired surveillance cameras have ethernet built in, allowing them to take advantage of what's called "Power over Ethernet" (or "PoE" for short). They can not only transmit video and audio over an ethernet connection, but draw power over that same cable as well.
  However, in order for PoE to work, you need a router or an ethernet switch that supports PoE (they'll usually have "PoE" written somewhere near the ethernet ports). Otherwise, you can buy what's called a PoE injector, which will turn a regular ethernet line into a PoE-supported ethernet line. Essentially, you're turning an ethernet cable from a data-only cable to a cable that can transmit both data and power.
  How to Add PoE to a USB Device with a PoE-to-USB Adapter
  If you have a router that supports PoE but a device that doesn't (in our case, a Wi-Fi cam that charges over USB), you can power that device?over ethernet with a PoE-to-USB adapter (sometimes just called a PoE splitter). You'll need one that can provide 5 volts and 10 watts of power, which is most of them. This $20 one works great, and it even comes with a female USB connector (in the form of an adapter) that will allow you to plug in any USB cable. Some PoE splitters don't come with USB connectors, but rather just a generic power connector, so watch out for that if it matters to your setup.
  To install the PoE-to-USB adapter, just locate an ethernet drop that's closest to your device. More than likely, you probably already have an ethernet cable plugged into it, but that's no problem.
  Unplug that cable and then plug in the male ethernet connector from the PoE adapter into the ethernet jack.
  Next, take the ethernet cable that you unplugged from the wall and plug it into the female ethernet connector on the PoE adapter.
  This will reconnect that ethernet cable to your network, but you'll now have a separate connector that splits off—you'll plug your device?into that. If there wasn't already a cable plugged into that ethernet drop, then you can ignore the female ethernet connector on the adapter. But if you ever want to plug in an ethernet cable in the future, you can do so using the female connector on the adapter.
  If you don't have existing ethernet drops but still want to run an ethernet cable to your device, then you'll plug?it into the female ethernet connector on the PoE adapter and ignore the male connector in that situation.
  In any case, now that you have the ethernet portion all hooked up, take the female USB adapter and plug it into the generic power connector on the PoE adapter.
  Then take the USB cable from your device?and plug it into the female USB connector.
  Your device?should automatically power on and act like it was plugged into a regular outlet all along. Unfortunately, our Wi-Fi?camera isn't?able to get an internet connection from the ethernet cable, so we still needed?to connect it to our?Wi-Fi network as usual—and make sure it was in range of our router. But power over ethernet worked well.
  Image from Netgear/Amazon