Trim cable as shown using a stripping tool. Trim center conductor end at 45-degree angle.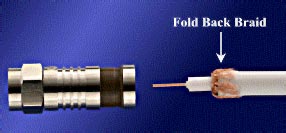 Fold braid back
  *NOTE: for quad shield cable cut off first foil and fold back second braid.
  Push connector onto cable twisting in a clockwise and counter-clockwise direction until cable dielectric is flush with connector mandrel face.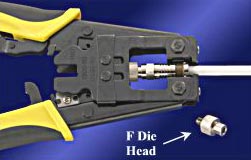 Make sure "F" die head is in crimp tool.
  Nest cable and connector into crimp tool
  *NOTE: For right angle and female connector use no die head.
Squeeze handle. Crimp tool is ratcheted and will release when compression is completed.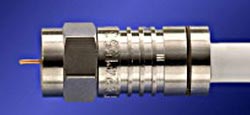 Remove connector and cable from tool and give a pull (30 lbs) to assure proper termination.