Everything You Should Know About Ethernet Networks and Media Converters
  Ethernet is primarily a standard communication protocol used to create local area networks. It transmits and receives data through cables. This facilitates network communication between two or more different types of network cables such as from copper to fiber optic and vice versa. However, you may wonder what an Ethernet media converter is? In short, an Ethernet media converter is a device that is able to support communications between two different types of network media. The media converter consists of a circuit card within a case. The card typically has 2 ports to connect two differing types of network cables. This post will attempt to answer any questions you might have regarding the functionality of fiber media converters and Ethernet networks.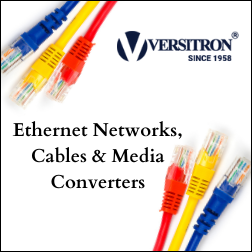 What is an Ethernet Network?
  As mentioned, Ethernet network is used to create local area network and connect multiple computers or other devices such as printers, scanners, and so on. In a wired network, this is done with the help of fiber optic cables, while in a wireless network, it is done through wireless network technology. An Ethernet network uses various topologies such as star, bus, ring, and more.
  What Are the Various Types of Ethernet Networks?
  Fiber optic media converters connect an Ethernet device with CAT5/CAT6 copper cables to a fiber optic cable. An Ethernet network usually is active in a 10-km periphery. This extension to fiber optic cable significantly increases the distance covered by the network. Here are some types of Ethernet networks:
  What Are the Various Types of Ethernet Cables?
  Ethernet may be either a wired or wireless network. In a wired network, various types of cables are used. Here are some widely used Ethernet cables:
  What Are the Advantages of Ethernet Media Converters?
  For optimal use of your network and increasing your speed of communication, you can opt for a top quality Ethernet Media converter manufactured by VERSITRON. We supply Media Converters to military, government, and commercial end users world-wide. VERSITRON works closely with each customer to ensure that the most practical and cost effective solution is utilized for any specific application. Click RFQ to know the fiber media converter price from our product range.
  Related Products Table:
  Model
  Product Name
  RFQ
  M7273SA
  10/100 Base TX to 100 Base FX Fiber Optic Media Converter, Multimode ST
  M7274SA
  10/100 Base TX to 100 Base FX Fiber Optic Media Converter, Multimode SC
  M7275S-2A
  10/100 Base TX to 100 Base FX Fiber Optic Media Converter, Single-mode SC
  M7275S-2SFAA
  10/100Base-TX to 100Base-FX Single Fiber Media Converter
  M7260A
  10/100/1000Base-T to 1000Base-SX/LX "Triple Duty" Gigabit Media Converter with SFP GBIC Technology
  M720D
  Multimode to Singlemode | Fiber Optic Media Converter
  MF727xS
  10/100Base-TX to 100Base-FX Industrial Fast Ethernet to Fiber Media Converter
  MF7250
  1000 Base-T to 1000 Base-X Gigabit Media Converter | Industrial Media Converter with SFP Technology
  MF727xS2
  The Tri-Port Industrial Media Converter | 10/100Base Copper Port | 100Base-FX Fiber Ports
  M7250P
  1000Base-T to 1000Base-FX Media Converter With SFP
  M7260PA
  10/100/1000 Base-T to 1000 Base-X Gigabit Ethernet Converter | Triple-Duty Gigabit Ethernet with PoE/GBIC Technology
  MSI
  Power Over Ethernet Solution | Model MSI
  Related Blogs