USA Network offers just about everything via its programming. You'll find hugely popular TV shows, movies, reality TV, and plenty more. However, there's only one problem – this cable channel and its website are geo-restricted. So, is there a way to watch USA Network outside the US?
You'll be happy to know that it's possible to stream USA Network from abroad. For that purpose, you'll need a VPN service. So, let's talk about how to find one, how to use a VPN, and how to unblock USA Network – no matter where you currently reside.
Where Is USA Network Available?
The name suggests it, so it shouldn't come as a too-big surprise that USA Network is available within the United States and its territories, and that's it. You can access USA Network's website and apps when you travel, as long as you do that within the country's borders.
With that said, unless you use a VPN proven to unblock USA Network, you will encounter the following error message, preventing your access to the network's website.
However, that doesn't mean that you should give up on USA Network. There is a workaround that will let you unblock this website, in addition to plenty more streaming services. So, here's everything that you need to know.
How to Watch USA Network Outside the US
So, to watch USA Network outside the US in 2021, you need to do the following:
Step #1: Find the best-working VPN to unblock USA Network
As you can already see, the first step requires you to pick a VPN service. This is actually the most important step, as you need a capable and powerful VPN to unblock USA Network. That will translate to a pleasurable media streaming experience without much input needed on your part.
With that said, we already know which VPN to recommend. That would be ExpressVPN, which works amazingly well with USA Network and is one of the best VPNs. However, it also grants you access to Disney Plus, Netflix, Discovery Plus, Amazon Prime Video, fuboTV, Sling TV, and plenty more streaming services.
Without any doubt, you should pick ExpressVPN if you want to most hassle-free way to unblock websites. Still, your list of options doesn't stop there. For more info, keep reading this guide or jump to the segment exploring the best VPNs for USA Network.
Step #2: Get Your VPN Subscription
So, have you decided on the VPN you're going to pick? If still in doubt, go ahead and subscribe to ExpressVPN. We'll use it in this article to give you an example of how to watch USA Network outside the US, so you can follow this guide more easily.
Getting your subscription begins with visiting ExpressVPN's website. Then, click on the button labeled 'Get ExpressVPN,' and first pick a subscription plan. There are three subscriptions available right now, with long-term ones bringing steep discounts.
Then, provide your email address and fill out your payment info. Once done, expect to see a confirmation email from ExpressVPN's team. That is when you can proceed to the next step.
Step #3: Download & Install the VPN on Your Device(s)
You'll be happy to know that ExpressVPN offers a whole slate of apps – for different types of platforms and devices. Therefore, you can install it on any device you'll use to access and stream USA Network.
The list of devices supported by ExpressVPN is really huge. So, we've prepared a dedicated guide teaching you how to download, install, and use ExpressVPN. Use the provided link and then follow the instructions you'll see there based on the device(s) you own.
And then, don't forget to prepare ExpressVPN for use. More precisely, launch the application and make sure to go through its initial setup. You will need to log in (using ExpressVPN's activation code), and you should see the VPN's home screen once done.
Step #4: Connect to a VPN Server in the US
The biggest requirement to accessing USA Network is to have a US IP address. That can be obtained by connecting to a VPN server found in that country. So, let's show you how to use ExpressVPN to connect to one of its servers.
Using ExpressVPN's home screen, click on the button just below the ON/OFF switch. This will open a new window, where you will see all of the servers that ExpressVPN offers. Once you click on 'United States,' a new selection of servers will appear. Then, double click on any server found in the United States.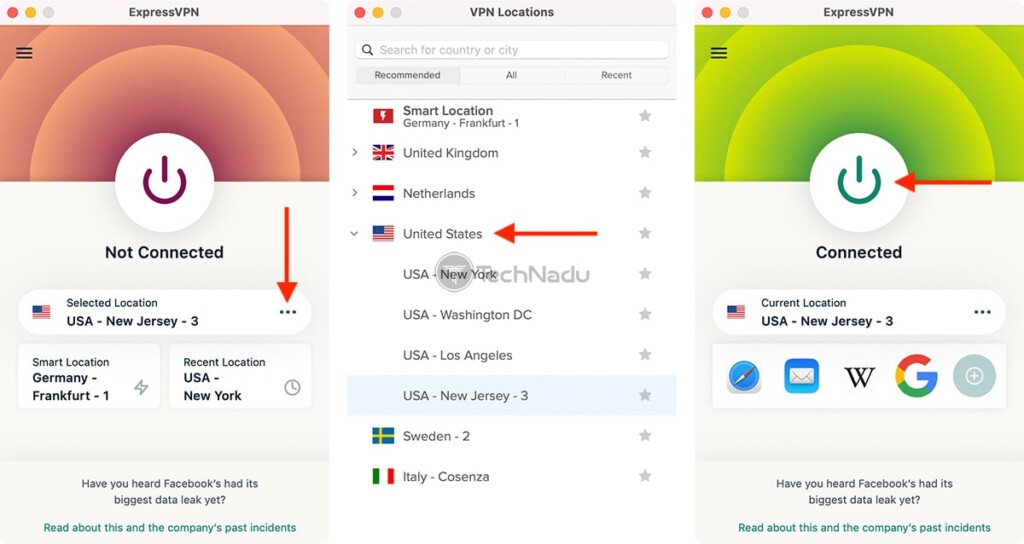 ExpressVPN will now take a few seconds to connect you. Once that happens, the upper half of its home screen will turn green. That means your VPN session is now active.
Step #5: Unblock & Access USA Network From Anywhere
Finally, you can feel free to visit USA Network's website. Unlike before, its content should be accessible without any issues. However, to access everything USA Network offers, you need to click on 'Link TV Provider' in the top-right corner.
There will be a sizable list of supported TV providers, including Xfinity, Verizon, Spectrum, Optimum, DirecTV, Cox, and more. Just below the grid of the recommended providers, you'll see a search box – so use it to find your provider and finalize the procedure.
In case you're outside the USA, you might have a hard time going through this step. However, the good news is that USA Network supports OTT services like YouTube TV and Sling TV – and you can subscribe to those outside the US. Click on the provided link to learn more.
Step #6: Get USA Network on Other Devices (Optional)
You should know that USA Network offers a range of apps, including apps for Android and iOS/iPadOS. However, to access and download those apps via their respective app stores, you need a Google or Apple account associated with an address from the US.
Once again, we offer you a workaround for that issue. In this case, the solution would be to get a new Google account or sign up for a new Apple ID. However, before you start doing that, ensure that your VPN session is active in the background.
While signing up for an Apple ID, you will need to pick the United States as your country. And also, feel free to provide any US address. To help you with that, we recommend using this random US address generator. Google will not ask for an address or country, but it will detect your IP address while signing up. So, that's why it's important to use the VPN throughout this entire procedure.
Then, make sure to log in using your new account – on your Android, iPhone, or iPad. That is done via the Settings app, where you'll first need to log out of your existing account. Once you do that, proceed to download the USA Network from its respective app store.
That's it! You should now have full and unlimited access to USA Network, even on your smartphone or tablet. Make sure to log in using your TV provider credentials, and you're all set to start watching USA Network even from outside the US.
What's the Best VPN to Unblock USA Network in 2022?
After spending quite some time testing dozens of VPNs, we know a thing or two about these applications. So, allow us to recommend 5 VPNs that can unblock USA Network with ease.
1. ExpressVPN – Best VPN for USA Network
We always had lightning-fast streaming speeds while using ExpressVPN. It's all thanks to their new proprietary protocol called Lightway. When you use it, connecting to a server takes only a fraction of a second! And our download speeds always stayed over 200-300 Mbps (our tester has a 500 Mbps Web connection, for reference).
Plus, ExpressVPN's apps have a brand new design, making them even more user-friendly than they were before. They work on pretty much all platforms. It's also cool that ExpressVPN supports up to five simultaneous connections. So you'll have no trouble watching your favorite shows on all your devices.
Other highlights include an impressive server count, a no-questions-asked 30-day refund policy, 24/7 live chat support, and split-tunneling (which lets you further optimize your VPN speeds).
Think ExpressVPN might be the right pick? Check out our in-depth review to find out more about them.
2. CyberGhost VPN – Best Streaming-Friendly VPN
CyberGhost VPN works very well with USA Network, and they have fast speeds to boot. But you're better off using this VPN if you're interested in unblocking other streaming sites, too. This provider has a vast server network, plus they have dedicated streaming servers (they refresh their IPs more often to avoid detection).
CyberGhost VPN also lets you use their service on up to seven devices simultaneously. Safe to say, you'll have no problem helping the rest of your family watch USA Network outside the US.
What's more, this provider has a 45-day money-back guarantee. To qualify, you just need to get a long-term subscription (which is really cheap, by the way). Besides that, CyberGhost VPN offers 24/7 live chat support and very user-friendly apps (available on most operating systems).
If you'd like to read more about CyberGhost VPN's service, follow this link.
3. NordVPN – Best Privacy-Friendly VPN
Want to watch USA Network outside the US and enjoy top-notch security on top of that? NordVPN just might be the right pick.
This provider can easily unblock this streaming site, and it has pretty fast speeds and supports up to six parallel connections. What's more, NordVPN's apps are available on most platforms and pretty easy to use. The provider's support team also works round-the-clock, so you'll quickly get answers if you experience any issues (that shouldn't really happen, though).
Besides that, NordVPN offers you great ways to protect your privacy. For starters, you can use special obfuscated servers to hide your VPN traffic. That comes in handy if your ISP decides to throttle your VPN speeds (for whatever reason).
What's more, NordVPN also has dedicated servers for double VPN connections (you get an extra layer of encryption with them) and Tor traffic (using Tor over a VPN offers more privacy). They also have something ExpressVPN doesn't – an adblocker that can even blacklist connections to malicious sites (CyberSec).
Finally, when you buy a NordVPN subscription, your payments are covered by a transparent 30-day money-back guarantee.
To find out more about this provider, please read our hands-on review.
4. Surfshark – Best Beginners-Friendly VPN
Want to watch USA Network outside the US on tons of devices – all at the same time? Want to save money by sharing the subscription costs with your friends? Or maybe you want to help everyone in your family unblock their favorite streaming sites?
With Surfshark, you can easily do that. This is one of the few VPN providers that let you use their service on an unlimited number of devices.
That's their main highlight, but there's much more! Surfshark has split-tunneling, very fast speeds, a pretty big server network, and professional 24/7 support through live chat. Their apps also have a simple, minimalistic design, and they work on most operating systems.
And, of course, Surfshark has a very straightforward refund policy. If you're not happy with their service, you just ask for your money back within 30 days.
To see how well Surfshark performs in other tests, please read our review.
5. Ivacy – Best Budget-Friendly VPN
If you want to get a VPN subscription and forget about it for a few years, Ivacy is the way to go. This provider has a five-year plan, which is extremely cheap (in price, not quality). Once you pay for it, you won't need to worry about recurring subscription costs for half a decade.
And Ivacy is a good VPN too. It has pretty okay speeds, a lot of servers, and apps for most devices. The only downside is that the apps don't have a very pleasant design. They could do with an overhaul. But don't get discouraged – you'll still have a pretty easy time getting used to them.
Other than that, Ivacy has the usual 30-day money-back guarantee and live chat support that's available 24/7.
Want to read more about Ivacy? No problem – follow this link to see our full review.
Can You Sign Up for USA Network From Outside the US?
Yes, there is a way to sign up for USA Network from abroad – which subscribing to OTT services such as YouTube TV and Sling TV.
You need to know that YouTube TV and Sling TV also come restricted to the United States only. However, you can overcome that obstacle by using a VPN and subscribing using a US-based Google or Apple account (so, you need an Android device or an iPhone/iPad). So, let's quickly check the options you have right now.
Sling TV comes as a more affordable option, priced at $35.00 per month. Keep in mind that USA Network is part of the 'Sling Blue' bundle, so make sure to pick that one while subscribing. And lastly, here's how to watch Sling TV outside the US.
YouTube TV comes with over 85 live TV channels, and that lineup includes USA Network via its "standard" subscription plan. It comes priced at $64.99 per month but also offers frequent discounts. To learn more, here's how to subscribe to YouTube TV outside the US.
How Do VPNs Unblock USA Network Outside the US?
They stop the site from seeing your IP address. Without it, USA Network can't tell where you're from.
Of course, that doesn't mean you'll browse the Web without an IP. Instead, you'll do it through the VPN's IP address. So, USA Network will see the VPN's IP instead of your own. If that IP is from the US, the site will think your connection is coming from that country.
Due to that, USA Network won't trigger its geo-restrictions. Instead, it will whitelist your access and let you watch whatever you want.
That would be all on how to watch USA Network outside the US in 2021. If you have any questions, make sure to post your comment below. Lastly, thanks for reading!