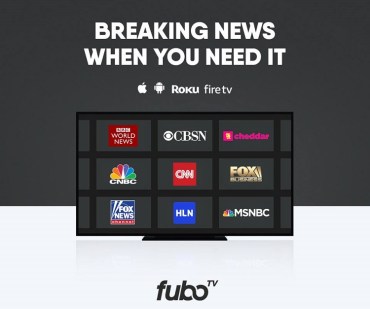 And finally, we have fuboTV. fuboTV is actually really unique because, yes, just like the others, you get access to tons of awesome TV channels that you can watch live over the Internet. However, fuboTV's big focus is on sports channels — so you'll get access to things like the NFL, NBA, MLB, MLS, and international soccer, whereas many of these channels can't be found at all on the others above.
  And yes, you'll still get access to your favorites, including live news channels and network television series and movies. fuboTV actually has over 100 different channels that you can stream live. And with Cloud DVR, you'll never miss a show or sports game again.
  FuboTV offers a free week of live TV streaming, but afterwards, charges $44.99 per month for your first month, and then $54.99 thereafter.
  As you can see, there are a lot of excellent cord-cutting TV streaming services out there. Most of these are a great replacement for regular TV, though we do have to say that DirecTV Now is our favorite. With pre-pay offers, you can almost always get a free streaming device — like the Apple TV 4K — with your purchase. Most of these are easy to setup as well, with it usually being as simple as downloading the service's app on your device of choice.
  Do you have a favorite TV streaming service? Sound off in the comments section below — we'd love to hear from you!