These days, more and more people are ditching cable and seeking out more affordable, more flexible options to enjoy live TV. Most folks will have some sort of streaming device, such as an Apple TV. But what about sports? Is it possible to watch NFL on Apple TV, or other sports, for that matter?
  It sure is! In fact, it's easier than ever to watch football on Apple TV, with several options available to NFL fans. Keep reading to learn how to watch NFL on Apple TV devices.
  Get the Apple TV NFL Stream via Hulu LiveWatch 60+ channels or check out Hulu on-demand
  Hulu with Live TV?is a great way to watch football games on Apple TV, and many other devices. The service costs $45 a month for 60+ channels, including ESPN, and regional coverage of NBC, FOX and CBS. Of all the streaming services, Hulu offers some of the best coverage of these local channels that are so important for football streaming. You'll also get a near-endless amount of content from Hulu on-demand including Hulu Originals!
  The Entire Hulu On-Demand Service is Included
  Hulu (review here) works on most devices, including Apple TV. It's affordable, and available without a contract. Additional movie channels can be added for a fee. You'll also have your own cloud-DVR, so you can save and enjoy shows on your own time. You can?try it out for free for 7 days by clicking here.
  Hulu Live details:
  Watch 60+ channelsHulu on-demand is included$45 per monthCloud-DVR storage with 50 hours of spaceSign up for the Hulu Live free 1-week trialStream of multiple devices at onceCheck our Hulu Live review to learn more
  Stream Apple TV NFL Games on fuboTVWatch sports and general entertainment on 95+ channels
  fuboTV?is a must-have for sports fans who are also cord-cutters. The service costs just $55 a month, with no contract required, and includes some of the most sought-after sports networks on TV. Included with fuboTV are networks like NBC, FOX and CBS, all of which air ton of live football.
  Additional Channels can be Added for a Fee
  An on-demand library is included. The cloud-DVR offers upgradeable space, so you can keep what you're given or add more! Since fuboTV works with Apple TV, you'll have no problem watching your favorite team on your favorite device! Read our?fuboTV review?to learn more, or check out the full?fuboTV channel list. Start a?FREE 7-day trial of fuboTV?today!
  fuboTV added details:
  $55 per month though the first month is available for $4595+ channelsAn on-demand library is includedAdd more channels to your lineup for a feeWorks on Apple TV, as well as many other devicesNo contractsCheck out the fuboTV 7-day trial
  ?
  Watch Football on Apple TV via Sling TVAll it takes is $25 per month to get started
  Sling TV?is an online streaming service that works on Apple TV and covers many of the most important networks for NFL coverage. With plans from $25 a month, it's also a very affordable option. For watching NFL content your best bet is to get the combined Sling Orange+Blue package, which is $40 per month. This gives you ESPN from the Orange package and NBC/FOX and NFL Network from the Blue package, combined in one!
  A Budget Friendly Plan with Multiple Sports Channels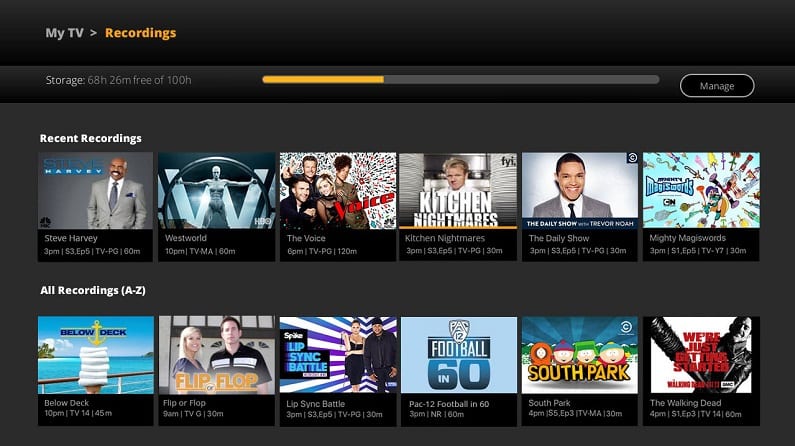 Sling includes networks like NFL Network, ESPN, and FOX/NBC in many areas. These networks are essential to stream NFL on Apple TV. For more info, read through our?Sling TV review, and the?Sling TV channel list. Other channels can be added for a fee. You can also use TV Everywhere apps like FOX Sports Go or WatchESPN to get coverage live and/or on-demand. You can also get the ball rolling with a?free 7-day trial!
  Sling TV details:
  $25 a month or choose the larger plan for more NFL channels for $40 a month30-50 channels or add dozens more for a feeAn on-demand library is includedA cloud-DVR can be addedCheck for current offers on devices and moreTry the Sling TV 7-day free trial!
  Watch Your Favorite Teams Live with YouTubeMost of the NFL channels you need are included
  YouTube TV?is another viable way to stream NFL games on your Apple TV (as well as many other devices). It costs $50 a month and does not require a contract. This package includes over 70 channels, which includes local channels (in most areas), ESPN, and many other channels. An on-demand library is included. You can even use TV Everywhere apps to get more content.
  Save Unlimited Content to the On-Demand Library
  YouTube TV is now available in most areas. It offers NFL channels like NBC, FOX, and CBS, as well as ESPN and NFL Network. The cloud-based DVR features an unlimited amount of storage space. That means you'll be able to save and binge just about whatever you want! To learn more, check out our?YouTube TV review. You can also start things off with a?free 7 day trial!
  YouTube TV details:
  70+ channels from $50 per monthWorks on Apple TV, Chromecast, etc.Local channels can be found in most areasA cloud-DVR is included with unlimited spaceAn on-demand library is also availableCheck out YouTube TV free for a week
  Stream NFL on Apple TV via PlayStation VueChoose from four packages from $50 per month
  PlayStation Vue?is another good way to watch the NFL on Apple TV, because it offers many of the networks that cover live football games. Plans start at $50 a month, and networks include?ESPN,?NFL Network,?NBC/CBS/FOX?in select areas, and more. The service is compatible with Apple TV and most other devices. Read our?PS Vue review?to learn more, or start off with?a FREE 5-day trial?today!
  Simultaneous Streaming on Multiple Devices
  Families will be able to stream on up to five devices at the same time. You can also make user profiles, which will save your place on shows and offer other perks. An on-demand library is included in any of the four available packages. You can also save shows to your cloud-DVR. You'll be able to store shows for up to 28-days. There are other channels that can also be added to your package.
  PlayStation Vue highlights:
  Packages from $50 a monthStream on Apple TV and other devicesGet your free PS Vue 5-day trial todayMany areas include local channelsWatch more TV on-demand or use TV Everywhere appsStream 5 devices at once
  ?
  Watch NFL Apple TV Games via DIRECTV NOWTake your pick from multiple packages
  DIRECTV NOW?presents a great way to stream NFL on Apple TV. The service offers over 40 channels for $50 a month and does not require a contract. There are many channels that will be useful for NFL games, including ESPN, NFL Network and NBC/CBS/FOX in many areas. Other key channels include AMC, TBS, TNT and many more – with networks for the whole family! See the?DIRECTV NOW channel list?for details.
  HBO is Available in Some Packages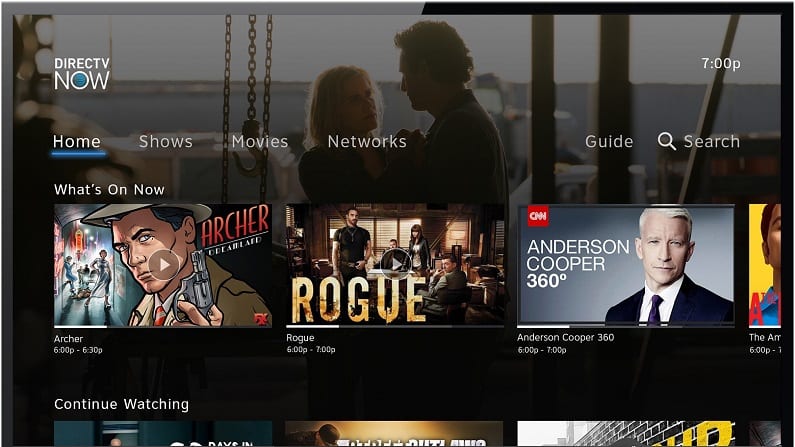 For live football streaming on Chromecast, DIRECTV NOW offers several useful channels, On-demand content is included in the on-demand library. You can get more content in the larger packages or you can use TV Everywhere apps. DIRECTV NOW is fully compatible with Apple TV, along with most other major streaming devices. Read more in our detailed?DIRECTV NOW review. Right now, you can get started with a?free 7-day trial, to watch NFL games on Apple TV free for a week!
  DIRECTV NOW highlights:
  $50 a month or choose a larger packageNo cable box or dish requiredNo contracts – cancel when you wantStream on Apple TV or use mobile devices and many other optionsSign up for the DIRECTV NOW one-week trial!
  Watch NFL Games on Apple TV Via CBS All AccessJust $6 gets you all of CBS live or on-demand
  CBS All Access?provides access to the CBS live stream, and the service works on Apple TV. This will only work for?CBS hosted?games, but CBS does host a lot of live NFL. All Access is only $5.99 a month, so it's an extremely affordable option. Read through our?CBS All Access review?to learn more. Click here to try a free 7-day trial!
  Live Stream Access in 90% of Markets
  Live streaming is possible with CBS All Access in over 90% of markets. There's also a near-endless amount of content in the on-demand library. You'll be able to watch all new episodes after they air and thousands of older episodes from a wide variety of shows. You can stream on all kinds of devices, including Apple TV.
  CBS All Access highlights:
  Packages from $5.99/monthTry CBS All Access free for a weekWatch CBS live or watch on-demandStream on Apple TV and other devices
  Use Amazon Prime to Watch NFL Games on Apple TVTwo pricing plans are available for one package
  Amazon Prime gives you a limited chance to watch NFL games using Apple TV. In order to watch NFL on Amazon Prime you'll need to tune in on Thursdays for Thursday Night Football! 11 of the games will air as a simulcast on Prime from the live FOX broadcast. Prime subscribers will get to watch the games using Apple TV or their other streaming devices. This won't get you the whole season, but if you're in need of a TNF option, this could be it.
  A 30-Day Trial Kicks Off Your Membership
  In addition to Thursday Night Football, you'll have access to the Prime Video library offering original content along with movies and TV shows. An Amazon Music library is also included, along with free 2-day shipping, and much more. You can also add channels and other content to your package. Annually a membership runs $119, which is around $10 a month. If you choose to pay by the month the price goes to $13. You can visit our Amazon Prime review to learn more. Another option is to sign up for the 30-day Amazon Prime free membership.
  Amazon Prime highlights:
  Pay $119 a year or $13 per monthStream on Apple TV or use most other devices11 TNF games are available on Prime throughout the seasonSign up for the Amazon Prime one-month trialAmazon Channels can add extra content to your plan
  Watch NFL on Apple TV via NFL Game PassWatch the entire NFL season on-demand
  NFL Game Pass?provides on-demand coverage of all NFL games throughout the season. Live coverage is not offered, but game replays are added to the on-demand library starting a few hours after the game airs live. If you don't mind the wait, this service can be a great option. It costs $100 for the entire season and provides tons of other perks for subscribers. Learn more in our?NFL Game Pass review, or?click here to start a free trial!
  A Great Choice for Football Fans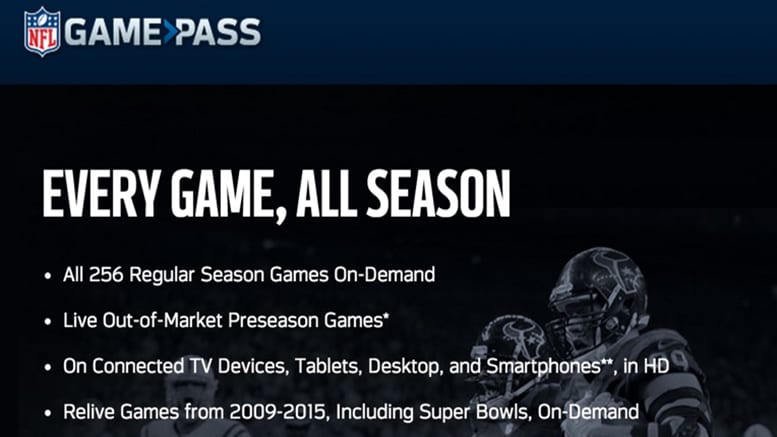 As all of the games are available on-demand, you'll be able to watch every game of the season. You can even go back and watch every game of each season dating back to 2009! Using the condensed game feature will allow you to watch full games in under an hour. Apple TV is definitely one way to watch NFL games on NFL Game Pass, but you can use many other devices, as well.
  NFL Game Pass details:
  Pay $99/season or four monthly payments of $30Try NFL Game Pass free for a weekStream on most devices from Apple TV to gaming consolesWatch full season as far back as 2009All games are available on-demand
  So, now you know how to watch NFL on Apple TV, but what about other devices? For more info, read through our?NFL streaming guide.