The 2022 NFL season has begun! As things get going, last year's top teams remain the favorites: Buccaneers, Chiefs, Bills, and Packers. But the new 18-week regular season could yield some surprising results.
You don't need cable to catch all the action. Read on to find out how NFL fans can leave cable behind without missing any games!
In a hurry? Check out these three popular streaming services with which you can watch most NFL games during the 2021 season:
FuboTV: With the exception of NFL RedZone, fuboTV gives access to all other channels that you need to watch 2021's NFL games. Try fuboTV for free for 7 days.Vidgo: Get five out of seven necessary channels to watch football without cable. CBS and NBC are the only two missing channels, ones you can always get with an indoor antenna. Vidgo offers the first month for $10.Hulu + Live TV: If you're mainly interested in ESPN and local channels to watch NFL online, Hulu has what you need. You can try Hulu for free for 7-days.
If you are thinking of dumping your cable subscription, your best bet as an NFL fan is an online streaming service with live TV channels. Services like Netflix are on-demand content libraries; they do not offer live channels that show live NFL games.
On the other hand, some on-demand services like Hulu also have live TV packages that give you access to the necessary NFL broadcasting channels. For example, Hulu + Live TV offers CBS, NBC, Fox, and ESPN, alongside other sports channels.
If you want to catch live NFL games this season, you can avoid the general live TV streaming services and watch via an HD Antenna or cheaper network apps. This article covers different ways you can watch football without cable, so read on to find out more.
Channels Needed to Watch Live NFL Games
There are two types of channels you'll need to watch live NFL games without cable this year. Sports networks like the NFL Network or NFL RedZone and local channels like Fox, NBC, and CBS.
So, the key premium sports channels you need to watch all 2021 NFL games, are:
NFL Network: exclusive live games, Thursday Night Football, and NFL original programming. If you can make the time to watch football, this is a must-have for the 2021 season.NFL RedZone: scoring highlights showing every touchdown of every NFL game, every Sunday. If you're a football fan tight on time, you can catch the key moments on NFL RedZone.ESPN: Monday Night Football.
During the week, there are generally two games. Monday Night Football is shown on ESPN. The only exception is when your local team plays, a local broadcast affiliate will simulcast the game along with ESPN. That could be CBS, Fox, or another channel depending on your location.
There's also Thursday Night Football. Primarily, Fox airs these games. Most are also available from NFL Network and Amazon Prime. Starting in the 2022 season, Amazon Prime will be the primary source for the game.
Jump ahead to see which streaming services offer these channels.
Local Channels Needed to Watch Live NFL Games
Sunday afternoon is when most NFL games occur. These afternoon games air on two local channels: CBS and Fox. CBS has the rights to AFC games, and Fox has the rights to NFC games. They alternate inter-league games.
Sunday Night Football consists of one game a week, with kickoff occurring at 8:20 pm ET. This is often one of (if not the most) anticipated games of the week. NBC has exclusive rights to this game.
Local channel availability depends on your streaming location. But the top streaming services offer all four local network affiliates in the vast majority of areas. You can also get yourself an over-the-air antenna and watch a lot of football for free.
Vidgo and Sling TV are the only services we discuss to not offer all four local channels needed to watch NFL games. (Vidgo provides ABC and Fox; Sling TV provides Fox and NBC.) But these are also cheaper than the other services. And with Vidgo, you get all the other NFL channels with its basic plan ($55.00/mo).
Sling TV offers something special. When you prepay at least two months of its $35 per month plan (almost half the price of the other services), you get a free HD Antenna that you can use to get the local stations in your area.
Five Ways to Watch Football Without Cable
By now, you probably know what channels you need to watch all the NFL games. We've also covered the best streaming services that offer the necessary channels, but there's more.
Here's an overview of the different ways you can watch football without cable.
1. Subscribe to a Live Streaming Service
The simplest way to watch all the channels you need for NFL football is to use a live streaming service. What's the best NFL streaming service? Here's an overview of which streaming services offer the key local channels and premium networks:
If you're going to subscribe to a live streaming service to watch football, FuboTV is probably the best. They offer all channels except NFL RedZone. And you can add that with the Sports Extra add-on for $10.99/mo (along with MLB Network, NBA TV, NHL Network, and 23 other sports channels.
For a lower-cost option, Vidgo is worth a look. It has most channels you need. The only two channels missing from the necessary NFL-streaming package are CBS and ABC.
See the reviews below for more information.
2. Use a TV Antenna to Get Local Channels
It's easy to forget, but antennas still work. In fact, they are better than ever. They are the cord-cutters secret weapon. If you live in a location within range of the necessary towers, you can get Fox, CBS, ABC, NBC, and often a lot more — completely free to your TV. In HD!
If you're in range, that means you can watch all in-market Sunday games live. And since you could get Fox, that covers many of the Thursday Night Football games.
Unfortunately, you can't get ESPN via antenna. So Monday Night Football is out of the equation. And you can't get the NFL Network exclusive ones, either.
Here's a quick look at some popular, recommended antennas to get local channels:
Also, with one of Sling TV's packages for $35 per month, you can get a free HD Antenna when you prepay two months of your subscription up-front.
It's worth noting that whether you get an indoor antenna or an outdoor antenna depends on where you live. You can use the FCC's DTV tool to see what channels you can expect in your area.
3. Stream NFL on Your Mobile for Free
If you're okay with watching NFL games online using your phone or tablet, then this is for you. You can watch all in-market and national NFL games — absolutely free.
These are:
Yahoo Sports App: allows you to watch NFL and NBA games with your friends on mobile and tablets. It also provides news, scores, and other information.NFL App: another free app that lets you watch primetime and in-market NFL games for free including playoffs and draft coverage.
Sound too good to be true? Well, there's a catch — the apps won't allow you to watch on your TV — they are limited to Android and iOS (iPhone, iPad) devices. Even if you have Chromecast or Apple TV, you can't cast or mirror these apps to your TV. Due to licensing restrictions, those functions have been blocked.
So if you're looking to watch on the big screen, well, you're out of luck here. But if you are someone who doesn't mind holding a device, or maybe you're always on the go, then this is a way to watch NFL online for free.
When using these apps, you have to allow them to use your location. This is how it knows what market you're in to show you the correct games. Also, if you aren't able to connect to wi-fi, live streaming on mobile devices will eat up a lot of data.
If you're really keen on watching NFL games on the big screen, you may be able to access local channels via Locast.org, a free online hub where you can stream local channels based on your location. The website will pick up your location via your computer or device IP address and determine which channels you can view for free.
4. Watch All NFL Games With NFL Game Pass
While it might sound crazy to some fans, there are others who don't mind watching the games after they air. If you normally record live games and watch them later, then NFL Game Pass is a good choice.
What is NFL GamePass? For $99.99 per football season, you can stream every single NFL game after it airs. It doesn't matter if it's in your market or not. Every single game. The NFL Playoffs and Super Bowl are both included. And they are commercial-free in 720p.
Note: NFL Game Pass subscribers can also watch out of market preseason games live.
And not only can you replay the full broadcasts, but each game also features a condensed version, which cuts out the non-action in between plays, allowing you to get through an entire game fast, ensuring that you can watch the most NFL action possible.
There's also coach's film, extra camera angles, additional NFL programming like Hard Knocks, and more. It's the service for the most diehard fans!
Try NFL Game Pass free for a week. To learn more before you buy, read our NFL Game Pass review.
5. Combine Several Ways to Watch Football Online
There's no one best way to watch NFL without cable. Two or more of the ways we listed in this article can be combined to ensure you have access to all NFL games in 2021, both live and on-demand.
Besides, there are other ways to watch football without cable, like:
DirecTV: offers local affiliates, ESPN, and FS1, so you can watch a good deal of NFL with it. But they currently don't offer NFL Network. Even worse, they are limiting access to NFL Sunday Ticket to their cable service. NFL Sunday Ticket allows subscribers to watch all out of market games live. We'll let you know if this changes.YouTube TV: an overall good streaming service for sports with all the local affiliates as well as ESPN, ESPN2, and NFL Network for $64.99/mo. This plan comes with a total of 85+ channels. If you want NFL RedZone, you can get it with the Sports Plus add-on for an extra $10.99/mo.Paramount+: formerly known as CBS All Access, it allows you to stream NFL games on CBS with for $4.99 per month.Amazon Prime Video: NFL has agreed to an exclusive deal for Amazon to stream Thursday Night Football from 2022 onwards. The deal was originally from 2023, but that has changed to a year earlier. They will be live streaming many of the games this year.
Sling TV organizes all of its sports content under one tab that is subdivided by sport. Streaming Services to Watch Football Without Cable
If watching the 2021 NFL season is a good reason for you to cut the cord and find a proper live TV streaming service, here are several service providers with a decent selection of channels and features.
Not all of them offer all the necessary channels to watch all NFL games. Refer to the official NFL schedule to find out what channels you need for the games you want to watch.
FuboTV Streams NFL on Six Channels
FuboTV is well-known as the streaming service for sports fans. With it, you can watch NFL online on many devices, including streaming players, smart TVs, TV devices (Amazon Fire TV, Apple TV, Roku) mobile devices, and more. FuboTV offers a wide variety of sports in general. The service does an excellent job of covering just about every type of sport out there, including international events.
It features over 110 channels of live sports, TV shows, and movies. With local channels as well as ESPN and NFL Network, you have everything you need to enjoy the 2021 NFL season online. With the Sports Plus add-on for $10.99/mo, you will also get NFL RedZone and 25 other sports channels.
You can check out the 7-day free trial to see if the service is right for you. See our FuboTV review for more info on the service. You can also learn more in our guide about how to watch NFL on FuboTV.
Hulu + Live TV for All Local Channels
As it stands, Hulu's live TV plan offers all four local channels you need to watch the 2021 NFL season. Unfortunately, it doesn't yet grant access to the NFL Network or NFL RedZone, but that's about to change.
NFL Media and Hulu have announced a partnership to bring the NFL Network and NFL RedZone to Hulu's live TV plan before August 1st, 2021. Besides, live ESPN compensates for the lack of NFL premium channels for now.
Hulu supports most smart TVs and streaming devices including gaming consoles like PlayStation. Alongside the 75+ channels, you can get cloud DVR storage up to 200 hours with unlimited multi-screen views on separate devices for an additional $15. If you plan to watch any on-demand content with Hulu, the no-ad plan for an extra $6 may also be worth considering.
You can read our Hulu + Live TV review for more about the plan, or you can jump straight into a 7-day free trial with Hulu.
Vidgo Is Unmatched for National NFL Games
Vidgo is a great deal with range of live TV channels. For $55/mo, you get 95+ channels that span the range of interests.
You get two key local channels, ABC and Fox, to watch the NFL season, along with five ESPN channels (ESPN, ESPN2, ESPNU, ESPN Deportes, and ESPNews), NFL Network, and NFL RedZone.
One downside of Vidgo is that it does not offer a DVR. You can compensate for this by installing a hardware DVR if you like.
To compensate for ABC and CBS, you can check out Paramount+, or see if your location allows you to watch free additional local channels with a service like Locast.
Learn more about Vidgo in our review, or head over to Vidgo to start your first month of premium streaming for just $10.
Sling TV for All Sports
Sling TV is a great deal at $35 for the Blue plan, which features 44+ channels. For NFL viewing, it's more of a mixed bag because it only provides local affiliates for Fox and NBC (depending, as always, on your location).
With the Sling Blue plan, you also get NFL Network. But if you want ESPN, you need the Sling Orange plan (also $35/mo). The real football fan should probably get the combined Blue/Orange plan for $50/mo. With it, you also get ESPN, ESPN2, and ESPN3.
You can get NFL RedZone with the Sports Extra add-on for $11/mo — or a total of $61/mo for the whole package.
If the lack of local affiliate channels bothers you, Sling TV offers a free HD Antenna when you prepay two-months on your subscription. In most locations, you should be able to get ABC and CBS as well.
Read our Sling TV review to learn more or head over to Sling TV's website to try the free on-demand content with a handful of free live channels.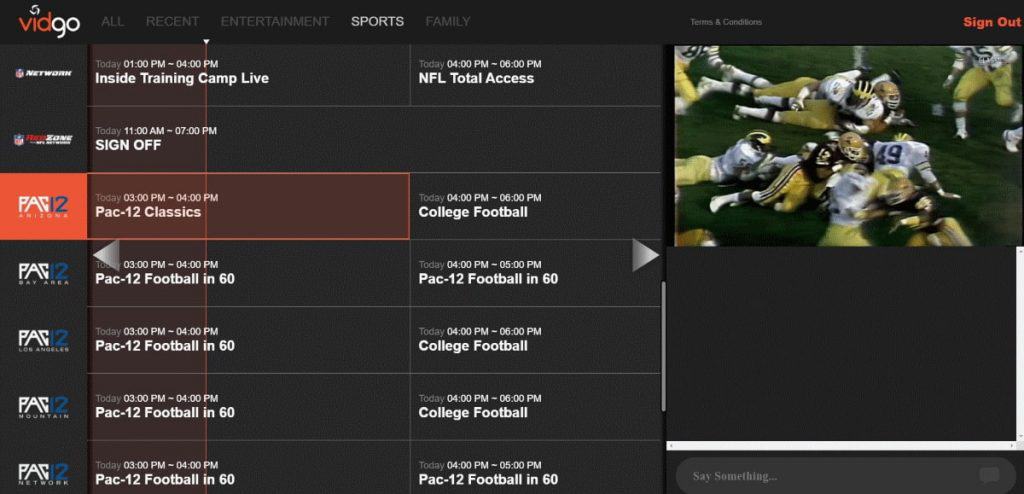 Vidgo offers great coverage of college and professional football. Summary: The Best Way to Watch NFL Without Cable
What streaming service or network subscription is best for you, depends on what channels or content you need and how much you're willing to pay.
If you want to cut the cord for the first time and want a fair selection of channels, one of the reviewed streaming services is a great way to get started while getting live access to live NFL games. FuboTV and Hulu + Live TV are both good choices for football fans.
That said, Vidgo and Sling TV are considerably cheaper than those services. And they provide room to supplement with an NFL Game Pass subscription.
Need more information on how to watch the NFL without cable tailored specifically to your favorite team? Click on your team below.
More Info on NFL Without Cable
If you still have questions, these resources should help:
Watch the NFL Combine Online Without CableWatch the NFL Draft Online Without CableWatch the NFL Preseason Without CableWatch Out of Market NFL Games Without CableWatch NFL Honors Without CableWatch NFL in Canada. FAQs How do I watch NFL games live for free?
If you are searching to watch NFL games for free, you undoubtedly have come across a lot of services that are scams. The only ways to watch NFL for free are:
Use a free trial of one of a paid streaming serviceGet an antenna for local channelsUse Locast to get a stream of your local channels if you are in one of the select marketsUse the NFL mobile app or similar to watch free on mobile devices
There are more details about free ways to watch NFL online without cable.
How do I stream CBS NFL games?
There are a variety of ways to stream CBS NFL games. One top recommendation is FuboTV. However, if CBS is the only channel you're missing, you can try the niche service, Paramount+. For just $4.99 a month, it provides live streaming access to CBS. This service only covers games that will air on CBS.
Can I stream NFL on Amazon Prime?
Amazon Prime subscribers will be able to watch many Thursday Night Football matches starting with the 2021 season, directly from the Prime Video app. Amazon Prime costs $119 per year and includes free 2-day shipping on Amazon, free video streaming, and more. If you do not have Amazon Prime, you can get started today with a free 30-day trial.
How do I watch NFL playoffs online?
Once the playoffs are underway, there are plenty of ways to watch online. Options are pretty similar to the regular season, with games airing on ESPN, Fox, NBC, and CBS. So services like FuboTV and Hulu + Live TV will work well for you. You can learn more in our NFL playoffs guide.
Can I watch NFL games on Netflix?
Netflix is an on-demand service, meaning there is no live TV on it. So you can't watch live NFL games on Netflix. It's also important to note that past NFL games aren't on Netflix either. If you wish to watch NFL games on-demand after they air, we recommend NFL Game Pass.
How can I watch Monday Night Football online?
To stream Monday Night Football online, you need to have access to ESPN. The streaming services we reviewed above offer ESPN, like FuboTV, Vidgo, Hulu + Live TV, and Sling TV. At this time, Monday Night Football is not available on ESPN+, so you need to find a source for live channel instead.
How can I watch Thursday Night Football online?
You can watch Thursday Night Football for free on the Yahoo Sports App on your phone or tablet. Some of the games during the 2021 season will stream live on Amazon Prime Video. As of 2022, Amazon will have exclusive rights to stream Thursday Night Football.
What's the easiest way to watch NFL on a smart TV?
Since smart TVs support streaming apps, the easiest way to watch NFL games on them is to check out our list of NFL-friendly streaming services and find out if your TV supports them. Supported services vary by brand of smart TV, so you'll need to check prior to signing up with a service. Here's a quick guide on how to watch Hulu Live on your smart TV.
How do I listen to live NFL games?
Sometimes we want to watch football but can't. For those Sundays, Mondays, and Thursdays that you just cannot be in front of a screen, you have NFL on TuneIn. Listen to every score as it happens, in real-time. TuneIn offers the best audio game-day experience for cord-cutting NFL fans, all for free. You can also listen on the radio and via NFL Game Pass.
How can I watch Sunday Night Football without cable?
Since Sunday Night Football airs exclusively on NBC, you need an option with that channel. The cheapest way is to use an antenna or Locast, but those options, especially Locast, are limited. Your best bet would be to go with a streaming service like FuboTV or Hulu Live, which allows you to watch Sunday Night Football online without cable TV in most areas.