Whether you are a baseball fan, soccer enthusiast, or NFL follower, you can't dismiss the impact of the NBA in the US sports market. With COVID cases still rising in some parts of the country, why risk going to a crowded stadium when you can easily watch 2021–22 NBA games live on FireStick without cable at home? I will show you how you can set up your FireStick to stream live NBA matches using both paid and free methods.
NBA 2021–22 Schedule
  The 2021–22 NBA season is back. Unlike the last two seasons, we should have a normal tournament this time around.
  The NBA preseason is scheduled to begin on October 3, 2021. The regular season will start on October 19, 2021, when the Brooklyn Nets will take on the defending champions, the Milwaukee Bucks. The regular season will conclude on April 10, 2022.
  NBA playoffs will start April 16, 2022, and the finals will be from June 2 to, at the latest, June 19, 2022.
  This will be a special season for many reasons. It's the 75th anniversary of the NBA tournament. You may have seen a diamond logo in promotions and ads. You will continue to see it throughout the season, including on merchandise, courts, and social media.
  Who Has Streaming Rights for NBA Matches?
  If you are a satellite user, you can subscribe to sports channels that support NBA and comfortably watch all NBA matches. The issue arises if you're a cord-cutter on FireStick. Let me explain.
  The NBA doesn't reward streaming rights for all 82 games to a single media company. The four national channel partners are ABC, ESPN, TNT, and NBA TV. Some Tuesday and Thursday doubleheaders will appear on TNT, while ESPN and ABC hold streaming rights for other important matches.
  These companies have a nine-year contract with the NBA to air matches on satellite and through streaming services. This is the sixth year of the contract, meaning we won't have any new options until the 2025 season.
  In short, we will take a look at streaming services with at least three of the channels I mentioned in their catalogs.
  Read: How to install and use the best VPN for FireStick
  How to Watch NBA on FireStick (Official Apps)
  Here, I will list streaming services that have official apps on FireStick and, more importantly, offer relevant channels to stream NBA matches without cable.
  Let's go from apps that support all the necessary channels to apps that have only two or three channels to stream NBA matches. I will mention which channels are available and which are missing from the action so that you can make better judgments about the subscriptions.
  Most of the services are US-based and restricted to the US. However, with the help of ExpressVPN, you can easily overcome that limitation and cheer for your favorite team regardless of your current location.
  Watch NBA on FireStick in the USA
  We will start the list with AT&T's DirecTV Stream, which has support for all the channels that stream NBA games on FireStick without cable. Let's get started.
  1. DirecTV Stream
  Back in August 2021, AT&T rebranded AT&T TV as DirecTV Stream. It's now poised to be an all-in-one streaming app from the second-largest carrier in the US.
  The Entertainment plan starts at $69.99 per month and includes sports channels to stream NBA matches on FireStick. But this plan doesn't include the NBA TV channel. To get that channel as well, you will have to upgrade to the Choice plan at $84.99 per month.
  Live TV Channels: 65+ channels in the Entertainment package, 90+ in ChoiceMovies and TV Shows: Yes, over 45,000 on-demand titlesFree Trial: NoPrice: Starts at $69.99/monthDVR storage support: 20 hours, or unlimited hours for $10/monthNumber of simultaneous streams: 3
  Website: https://www.att.com/tv/
  2. YouTube TV
  YouTube TV is yet another streaming service that offers all four channels in its plans. Unlike for NFL RedZone, you don't need to subscribe to any Sports package to enable certain NBA channels on FireStick.
  Live TV Channels: 85+ channelsMovies and TV Shows: NoFree Trial: 5 days, may vary by userPrice: $54.99/month for the first three months, $64.99/month afterwardDVR storage support: UnlimitedNumber of simultaneous streams: 3
  How to Install YouTube TV on FireStick
  3. Sling TV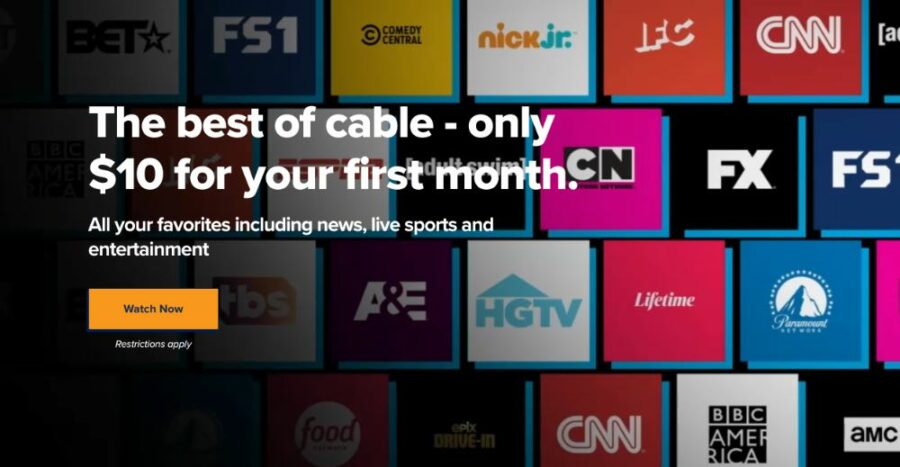 It's a mixed bag with Sling TV.
  Basically, you can get Sling Orange to watch ESPN and TNT. You can also watch NBA TV if you subscribe to Sling TV's Sports Extras package for an extra $11/month. Check the official NBA schedule to see which matches you can catch and which ones you'll miss with the Sling Orange + Sports Extras package.
  Finally, you can add an NBA League Pass ($29/month) to watch all out-of-market games in the regular season and playoffs (not the finals), or an NBA Team Pass ($17.99/month) for the same content limited to a specific team. Keep in mind that games broadcast on ESPN, TNT, ABC, and NBA TV will not?be available via either pass.
  Live TV Channels: 32 channels with Sling Orange, 44 channels with Sling Orange + Sports ExtrasMovies and TV Shows: Yes, on live channels, not on-demandFree Trial: NoPrice: $10 for the first month of Sling Orange, $35/month after that; Sports Extras and NBA Passes are additional costsDVR storage support: 50 hoursNumber of simultaneous streams: 3
  How to Install Sling TV on FireStick
  4. fuboTV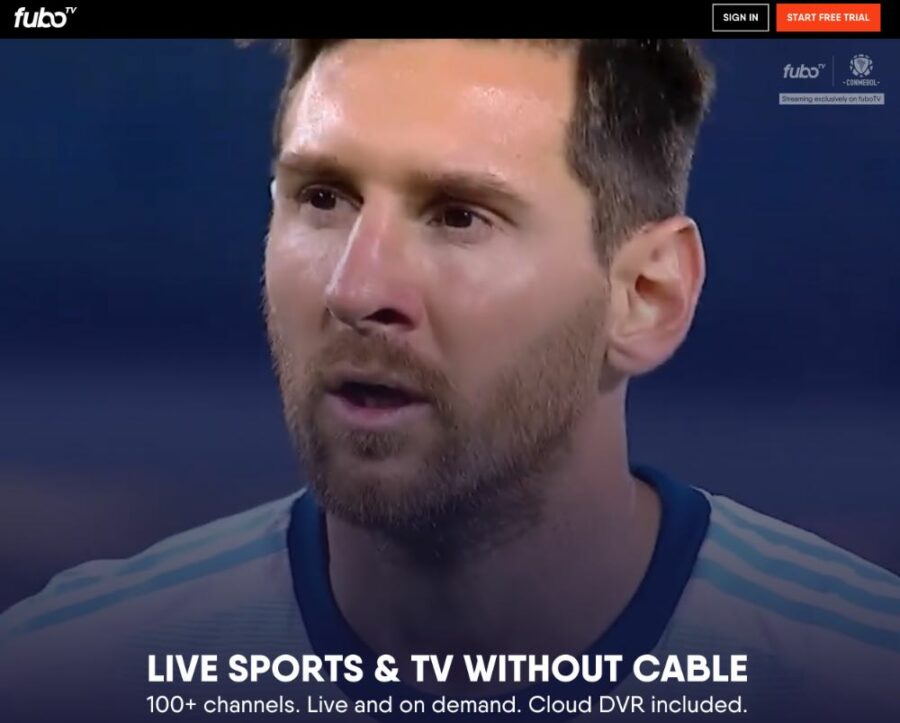 fuboTV supports 220+ live TV channels. If you check the company's catalog, you'll see that it's capable of replacing a cable TV subscription. Unfortunately, the company misses out on the TNT channel.
  You'll have to shell out an additional $9.99 per month for the Sports Lite package that unlocks NBA TV and several other sports channels. Or you can get the Sports Plus package at $10.99 per month that unlocks NBA TV and even more sports channels, like NFL RedZone and ESPN News.
  Live TV Channels: 220+ channels, though it varies based on your locationMovies and TV Shows: Yes, on live channels, not on-demandFree Trial: 7 daysPrice: Starts at $64.99/monthDVR storage support: 250 hours with the Starter plan, or 1,000 hours with the Pro/Elite planNumber of simultaneous streams: 3 with the Starter plan, or 10 with the Pro/Elite plan
  Website: https://www.fubo.tv/welcome
  5. Hulu + Live TV
  Normally, I suggest going with Hulu + Live TV for major sports events because of the Disney+ and ESPN+ subscriptions. But even with those, you will miss out on NBA TV. And unlike Sling TV and fuboTV, there is no sports package that lets you add NBA TV either, so there is no way to get the channel through Hulu.
  Hulu + Live TV also lacks regional channels such as Charter-owned Spectrum SportsNet, Bally Sports, and YES Network.
  That said, Hulu + Live TV does have ABC, ESPN, and TNT.
  Live TV Channels: 75+ channelsMovies and TV Shows: Yes, via Disney+ subscriptionFree Trial: 7 daysPrice: $64.99/month for Hulu + Live TV, or $72.99/month for Hulu + Live TV, Disney+, and ESPN+DVR storage support: 50 hoursNumber of simultaneous streams: 2, or unlimited streams for $9.99/month
  How to Install Hulu on FireStick
  As I mentioned, the NBA League Pass is another option to watch NBA games, but it really isn't a viable option. You won't be able to broadcast live games that are being aired on ESPN, TNT, ABC, or NBA TV. You will have to wait three hours after each broadcast finishes. The NBA League Pass won't stream the NBA finals either.
  How to Watch NBA Live Games on FireStick in Canada
  Interest in the NBA isn't limited to the United States. It has spread to the neighboring region as well. The good news is you can easily stream NBA games on FireStick in Canada without cable.
  Canadians can use the SN NOW app from Sportsnet to stream NBA games on FireStick. The app is also available on iOS, Android, Chromecast, Xbox One, and PlayStation 5. The subscription is priced at $19.99 per month.
  The SN NOW app has excellent sports content, and it comes with other video-on-demand titles and even supports for split-screen streaming.
  Website: https://www.snnow.ca/
  How to Watch NBA Live Games on FireStick in the UK
  In the UK, you can go with the Sky Go app on FireStick to watch NBA games, but that requires a Sky TV subscription, which is not ideal for cord-cutters.
  The alternative is to subscribe to NOW's Sports Membership. The streaming service has support for all 11 Sky Sports channels. Its apps are available on FireStick, mobile devices, and gaming consoles as well.
  The subscription costs £33.99 per month. New subscribers get the first three months for £25 each month, plus a 1-month free trial of Boost (normally £5/month), which takes the resolution from HD (720p) to full HD (1080p).
  Website: https://www.nowtv.com/watch-sky-sports-online
  How to Watch NBA Live Games on FireStick for Free (Legal Apps)
  As you may have observed, most streaming services offer a free trial for new subscribers. You can take advantage of that and enjoy several weeks of NBA coverage for free on FireStick.
  Let's start with YouTube TV, which has all four channels to stream NBA matches. You can sign up for the service and watch NBA games for free for about 5 days, sometimes longer during certain promotions.
  Now move to fuboTV and enjoy a 7-day free trial. After that, sign up for the Hulu + Live TV free trial that lasts for a week.
  In short, if you are new to the streaming world, you are easily looking at three weeks of free NBA streaming. Don't forget to cancel these free trials before the due dates though—these streaming services will have no problem charging you for the subscription when the free trial ends. It helps to set reminders on a calendar app or task management app.
  But what about the remaining matches after the free trials, including the playoffs and NBA finals? If you are still not convinced that one of the paid streaming services is perfect for you, you can try IPTV services, Kodi addons, or third-party apps from the options below.
  Free Apps to Watch NBA Live Games on FireStick
  Before you go this route, let's have a word of caution, shall we? Amazon FireStick's versatile nature means you are not limited to official apps from the App Store. With a few steps, users can easily install third-party streaming apps and IPTV services from the web.
  However, FireStickTricks.com can't verify the content these services provide. You might end up streaming unlicensed content on unofficial apps. After all, it's not easy to distinguish between licensed and unlicensed content on third-party streaming apps on FireStick.
  So before we move to free options to watch NBA games on Fire TV Stick, here's how you can stay anonymous while streaming online.
  How to Stream on FireStick Anonymously
  As soon as you install the right apps, your FireStick is all ready to stream your favorite content. However, before you start, I would like to warn you that everything you stream online is visible to your ISP and Government. This means, streaming free movies, TV shows, Sports might get you into legal trouble.?
  Thankfully, there is a foolproof way to keep all your streaming activities hidden from your ISP and the Government. All you need is a?good VPN for Fire Stick. A VPN will mask your original IP which is and will help you bypass Online Surveillance, ISP throttling, and content geo-restrictions.
  I personally use and recommend?ExpressVPN, which is the fastest and most secure VPN. It is compatible with all kinds of streaming apps and is very easy to install on Fire TV / Stick.
  We do not encourage the violation of copyright laws. But, what if you end up streaming content from an illegitimate source unintentionally? It is not always easy to tell the difference between a legit and illegal source.
  So, before you start streaming on your Fire Stick / Fire TV, let's see how to use ExpressVPN to keep your streaming activities hidden from prying eyes.
  Step 1:?Subscribe to ExpressVPN?HERE. It comes with a 30-day money-back guarantee. Meaning, you can use it free?for the first 30-days and if you are not satisfied with the performance (which is highly unlikely), you can ask for a full refund.
  Step 2: Power ON your Fire TV Stick and go to Find followed by Search option.
  Step 3: Now type "Expressvpn" (without quotes) in the search bar and select ExpressVPN when it shows up in the search results.
  Step 4: Click Download to install the ExpressVPN app on Fire TV / Stick.
  Step 5: Open the app and enter the login credentials that you created while buying the ExpressVPN subscription. Click Sign in.
  Step 6:?Click the Power icon to connect to a VPN server. That's all. Your connection is now secure with the fastest and best VPN for FireStick.
  You can also read more detailed info on?using ExpressVPN with Fire TV / Stick.
  Now that your connection is secured with one of the best VPNs for FireStick, here's the list of free or low-cost sources to watch all NBA games.
  IPTV Services
  Most IPTV services carry relevant channels to stream NBA matches on FireStick without cable. When you subscribe to an IPTV provider, go with the monthly plan instead of a longer plan. Check whether the service has all the channels you need or not. If not, you can move to another IPTV service.
  As for which ones to consider, I have created a list of the best IPTV providers for FireStick. Glance through them and sign up for a service.
  Just don't forget to get protection from ExpressVPN. Your preferred IPTV service might carry unlicensed content.
  Kodi Addons and Third-Party Apps
  Third-party streaming services and Kodi addons are your best bet to watch NBA games on FireStick for free without cable.
  Using third-party streaming apps, users can comfortably watch NBA games for free. If your preferred streaming app doesn't have all the sports channels you need, you can move on to another one.
  As for Kodi, you can select any sports Kodi addon from our list and integrate it with the Kodi app on FireStick.
  Sports Streaming Websites
  Dedicated sports streaming websites also offer live NBA feeds for free. However, they are filled with ads and trackers that might steal your data. Also, the streaming experience is poor compared to the official apps out there, as these sites tend to stream in low quality and buffer a lot.
  I recommend using one of the other options.
  Wrapping Up
  In this article, I showed you how to watch live NBA games on FireStick for free and using several paid methods. You don't need to pay hundreds of dollars per month to view NBA games at home. Using streaming services, IPTV providers, or Kodi addons, you can easily stream NBA on FireStick for a much lower price or even free.
  Related:
  How to Watch Free Live Sports on FireStickHow to Watch Champions League on FireStickHow to Watch College Football on FireStickHow to Watch NHL on FireStick
  Legal Disclaimer -?FireStickTricks.com does not verify the legality or security of any add-ons, apps or services mentioned on this site. Also, we do not promote, host or link to copyright-protected streams. We highly discourage piracy and strictly advise our readers to avoid it at all costs. Any mention of free streaming on our site is purely meant for copyright-free content that is available in the Public domain. Read our full disclaimer.
  Disclosure -?FireStickTricks.com is reader-supported blog. When you buy a product through links on our site, we may earn commission. Learn More