Scaled-down TV subscription services like Sling TV give you a few channels for a fraction of the cost of full cable TV and with less hassle.
  So, here's the rundown of how to watch sports without spending an arm and a leg for full-blown cable TV.
  Watch Local and Network Sports on Free Broadcast TV
  I always start with the free solutions, and free broadcast TV works great for a lot of people. If you live in a big city, then you can probably get all of the major networks plus local channels with a simple indoor antenna. This will enable you to get many home games and all of the major sporting events like the Superbowl, World Series, and professional basketball playoffs, as well as some college basketball and football games.
  Enter your zip code into the Station Finder to see if there are channels in your area. If you have a modern TV, then you just need to get a good antenna and plug it directly into your TV to get those channels. If you have an old tube TV, you'll need a converter box.
  Note that Dodger baseball has been blacked out of regular cable and broadcast TV in Los Angeles except for a few games. To watch the Dodgers in LA, you need the Spectrum SportsNet LA service.
  Watch NFL Games on the Mobile App For Free
  You can download the NFL App for iOS and Android, and watch live local and primetime games on your phone for free! For more information on watching the NFL on mobile devices, check this article: How to Watch NFL Games on Android.
  Watch the NFL, NCAA Basketball, and PGA Golf on CBS All Access
  You can watch the NFL, NCAA Basketball, and other sports on CBS's streaming service, CBS All Access. Cost is $5.99/month with limited commercials or $9.99/month commercial-free (as of this writing).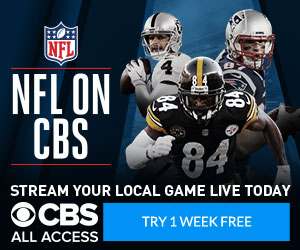 When you purchase through the affiliate links on this site, I receive compensation from the retailer or manufacturer at no extra cost to you. I personally test and/or research each product or service before endorsing it. As an Amazon Associate, I earn from qualifying purchases. This site is not owned by any retailer or manufacturer.
  Watch ESPN on Sling TV
  If you love ESPN, Sling TV gives it to you for $25 per month. You get ESPN and ESPN2, plus other channels like AMC, A&E, and the History Channel. You'll need an Internet connection and a computer or iOS device, or a set-top box like a Roku, Amazon Fire TV, or Xbox One to watch it. Once you're set up, you get full access to ESPN, just like when you had cable TV, but for a fraction of the cost!
  Note, Sling TV only works on one device at a time, unless you subscribe to their Orange+Blue services at $40/month. If you want to record shows, they offer cloud-based recording for $30/month.
  Watch ESPN and Local Channels on YouTube TV
  YouTube TV gives you access to lots of sports cable channels including ESPN, ESPN2, Fox Sports, and others, plus some local stations, depending on where you live. It also works with the major streaming boxes and mobile phones.
  Check Out Fubo TV If You Don't Need ESPN
  Fubo TV originally launched as a streaming service for soccer, but now it offers a wide variety of channels. The base cost is $45 per month, and the sports channels include Fox, Fox Sports, Fox Prime Ticket, Fox College Sports, NFL Network, NFL Red Zone, Big Ten Network, FS1, CBS, NBC, TNT, and more.
  You can add extra sports packages for cycling, international sports, outdoor adventure sports, Spanish soccer, and more. These range in cost from $6 to $15 per month more. There is native cloud DVR capability with additional recording time available at extra charge.
  The big caveat, however, is that Fubo TV does not offer ESPN or any other Disney-owned channels at the moment. But, if the other channels work for you, check it out!
  Watch Major League Sports on Their Subscription Services
  The major sports leagues have subscription services that allow you to watch some or all games live online using your computer or many Internet-connected devices (such as your phone, Roku, etc.) If you are into multiple sports, this is an expensive option, but if you are only into one, say hockey, the cost is much less than cable!
  MLB.TV (Major League Baseball) lets you watch every out-of-market Major League Baseball game for $50 per year, as of this writing. "Out-of-market" means that you can't see your local team.
  NBA League Pass is the NBA's online streaming service. Check the link for pricing and availability.
  NHL.tv allows you to watch the previous year's entire season for just $9.99. Check their site for future plans for the current season.
  Football (American football, that is) fans can watch NFL games online at NFL Game Pass. However, there are two huge caveats: they only show games that are NOT in your local market (use an antenna for those), AND, the games are NOT live – Sunday games are shown after all of the Sunday games are played. Cost is $99.99 per season.
  Watch Soccer on Sling TV International's Sports TV for $10/month
  If you're into international sports like soccer or cricket, check out Sling TV International's Sports TV package! For only $10/month you can watch great international games on beIN Sports, Willow Cricket, One World Sports, Universal Sports, and a few others. This is huge for soccer fans! (Note: this service is only available in the U.S.)
  And of course, check out Fubo TV as previously mentioned, if you love soccer.
  Watch Tennis at TennisTV Online
  TennisTV offers a variety of streaming packages. As of this writing, you can pay $14.99 per month or $119.95 for the whole year. TennisTV is the official live video streaming service of the ATP World Tour and WTA. The Grand Slams are not available on TennisTV though.
  Watch Special Sporting Events Online
  For special events like the U.S. Open or the Olympics, check the prospective event's website for streaming options. In the past, these particular events have had free live streams online!
  Watch Games at Sports Bars
  If you only watch a few games a month, then watching them at a sports bar is still cheaper than cable TV! And, it's usually more fun watching with a lot of fans.
  Watch with Friends
  If a friend has cable or satellite TV who is also a sports fan, see if you can watch games with them at their place. If you bring a six-pack or snacks, I bet you'll be welcome.
  Summary
  Well, I hope some of these ideas are useful to you! Obviously, if you subscribe to all of them, it would cost a lot, but if you only get one or two, it's cheaper than cable.
  Let me know in the comment section below if you find any other ways to watch sports on TV without paying an arm and a leg! If you found this article useful, please share it with your friends and family! Thanks, Brian.