Have you ever tried to access ESPN abroad and found that the channel is not supported in the country you're visiting? This is because ESPN is geo-blocked and unavailable for audiences outside of the US.
  Even users who subscribe to ESPN and ESPN+ via cable TV or compatible internet connection can only view ESPN whilst in the USA.
  Luckily, there is a way around this problem. By using a VPN, you can bypass geo-restrictions and stream ESPN online – regardless of your location. This works because a VPN masks your real location, allowing you to unblock region-locked streams.
  It's worth mentioning that not all VPNs will work, as ESPN actively blocks some of them. In this article, we'll take you through the best VPN options and explain how to watch ESPN without cable from anywhere.
  ESPN is available in many countries all over the world. However, some of the most popular live sports content is only available on the US channel. Even in the US itself, there are often regional blackouts that stop people in particular parts of the US from watching live games. As such, you will need a reputable VPN to access the specific branch of this network if you are outside of the US (or in the wrong part of the US).
  In a nutshell, a VPN helps to bypass geo-restrictions put in place by multiple streaming services. A VPN will block your actual location and make it look as if you're using the internet elsewhere. This means that if you connect your VPN to a server in the US, you'll be able to access services that are usually restricted outside of the country.
  As well as helping you to override geo blocking on streaming services, a VPN provides numerous security benefits. These include data encryption, split tunneling, and an automatic internet kill switch.
  There is a wide range of VPN services available on the market. To help you decide which is best for you, we've compiled a list of our favourites below.
  NordVPN is one of our favourites. It has over 5000 servers around the world – almost 2000 of which are in the USA. This ensures you'll have a wide choice of servers to connect to when watching ESPN.
  NordVPN promises super fast speed and comes with unlimited bandwidth. This makes it ideal for streaming live sporting events. The service also incorporates extra security features like a 256-bit AES encryption, a customizable kill switch, and a double-hop VPN which routes the connection through two VPNs instead of one.
  Want to give it a try? NordVPN comes with a 30-day money-back guarantee.
  Surfshark has over 3200 servers in over 60 countries – including the USA. The service has decent speeds, which makes it suitable for watching live streams without buffering. Surfshark also lets you connect as many devices as you like.
  The VPN has plenty of security features in place to keep you safe. With 256-bit encryption, your real IP is always hidden, and there is added protection against DNS, IPv6, and WebRTC leaks. You can even sign up anonymously and use cryptocurrency to pay.
  Surfshark is cheaper than many of its competitors. It has software for iOS, Windows, Android, and Linux.
  ExpressVPN is a strong choice for streaming ESPN from anywhere. It offers server locations in 94 countries – 20 of which are in the USA. In testing, the service generally performs highly in terms of unblocking and speed.
  ExpressVPN uses a 256-bit AES military grade encryption, and comes with an integrated kill switch. It has apps for Android and iOS – alongside a desktop version that is compatible with iOS, Windows, MacOS, and Linux.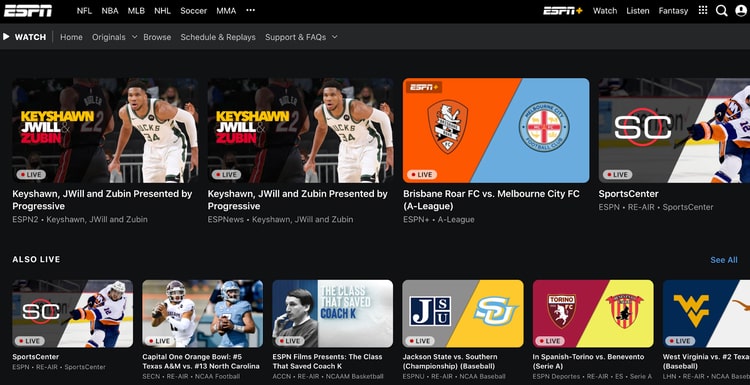 The good news is that you don't need cable TV to watch ESPN. In fact, there are several streaming services that show live ESPN. These include:
  With any of these streaming services, you can watch ESPN through the web, mobile smart devices, and TV-connected devices such as Apple TV, Amazon Fire Stick, and Roku. By using your internet connection and these streaming services, you can stream and watch the same ESPN as that airing on cable TV.
  Many of the streaming services will also let you access ESPN's streaming app – which brings all the ESPN branded channels together. This includes premium content from ESPN+ – if you are a subscriber. If you can't access ESPN via cable, we recommend trying one of these great VPNs for streaming .
  We'll take you through each streaming service in a little more detail below.
  The Orange Plan on Sling TV is the most affordable way to watch ESPN. It costs $35 per month to stream SportsCenter and all of ESPN's programming straight to your TV. Sling TV also offers ESPNU, ESPNews, ESPN Goal Line/Buzzer/Beater/Bases Loaded, and more.
  There are a bunch of other features available through Sling TV:
  With over 90 channels offered in its family package for $64.99 per month, FuboTV is a great choice for watching sports. There is a 7-day free trial, and the service offers ESPN, ESPN2, and ESPN3 in their standard package. ESPNU and ESPNews are available through channel upgrade options.
  Some features included in the FuboTV family package are:
  Hulu offers a live TV service that includes ESPN. The service shows ESPN, ESPN 2, ESPNews, SEC Network, and ACC Network for $64.99 per month. It's also possible to use your Hulu Live TV login to watch ESPN3 on the ESPN app.
  A subscription to Hulu Live TV includes:
  Check out our list of the best VPNs for Hulu in 2021.
  This newer streaming service offers competitive pricing at $55 per month for the core plan. Vidgo includes ESPN, ESPN Deportes, ESPN2, ESPNU, and ESPNews in its core package – alongside 60 other channels.
  There is no contract with Vidgo, so you can cancel at any time. There is also promotional pricing for new customers. Other features include:
  The way in which you watch ESPN will vary depending on your device. In this next section we'll share instructions for watching ESPN on some of the most popular devices.
  ESPN is geo-blocked and unavailable for audiences outside of the US. Even users who subscribe with cable TV can only view ESPN when in the USA. Fortunately, you can use a VPN to bypass geo-restrictions and stream ESPN online – regardless of your location.
  Not all VPNs work because ESPN actively blocks some of them. In the next section, we'll take you through the process of watching ESPN from a variety of locations.
  To watch ESPN in Canada, you'll need to use a VPN with US servers. Once you have installed it, connect to a US server. If you haven't already got an ESPN account, you should sign up using a US address. Alternatively, you can sign up to a streaming service that shows ESPN.
  Once this process is complete, you can click on Get Started and begin streaming ESPN in Canada!
  To watch ESPN in the UK, you'll need to download a VPN and connect to a US server. Now you simply need to head to the ESPN website and enter a US zip code when creating an account. Alternatively, you can sign up to a streaming service that shows ESPN.
  Once the process is complete, you can begin streaming ESPN in the UK.
  To watch ESPN in Europe, you will need to download and install a VPN with servers in the US. A great option for this in Europe is NordVPN. Once this is complete, you should connect to a US server. From here, simply create an account on the ESPN website and use a US zip code when filling out your details. You can also sign up to a streaming service that shows ESPN.
  Once everything is set up, you're ready to stream ESPN from anywhere in Europe!
  In Australia, ESPN is available as part of Foxtel iQ's pay TV Sports HD pack. If you're not signed up to this, you'll need to get a VPN that has plenty of servers in the US. Once installed, connect to a US server and login to ESPN or a streaming service of your choice. We recommend Surfshark for this!
  All that's left to do now is to find a stream of your choice and start watching ESPN!
  Sometimes, you may find that you are unable to watch ESPN online – even if you have a VPN. This probably means that you need a better or different VPN for streaming.
  If your VPN isn't working, it's likely that you are connected to a server that is geo-locked by the streaming platform you are using. To fix this issue, first check if your VPN is running properly. If it is, then you probably need a better VPN.
  Below, we've listed a few other issues that can pop up when trying to watch ESPN:
  If met with any of these issues, you can try the following solutions:
  While it's possible to watch ESPN with a free VPN, it's not necessarily a good idea to do so! Firstly, free VPNs are more likely to be blocked by streaming services than reputable VPNs. This means that many free VPNs will be unable to bypass the geo-restrictions put in place by ESPN.
  Even if your free VPN does work, it will be a lot less secure than a paid one. Unfortunately, many free VPNs make money by selling customer data to third-parties.
  A somewhat better alternative to a free VPN is a freemium. This is a free version offered by some paid-for VPNs. These regularly come with data caps and are not as efficient at unblocking content from major streaming services. This may be problematic when trying to stream ESPN.
  NordVPN comes with a 30-day money back guarantee. You can sign up to this service and use it to watch ESPN for a month for free. Just be sure to cancel your subscription in time!
  ESPN is an American multinational cable sports channel owned by ESPN Inc. it was founded back in 1979 and it broadcasts largely from studio facilities in Connecticut.
  The service is one of the most successful sports networks around. It is available to almost 95% of all households with paid television in the United States, and it broadcasts in more than 200 countries.
  ESPN covers some of the most diverse sporting events on the internet. Enjoy up-to-the-minute sports coverage, commentary, and highlights for cricket, football, golf, NFL, tennis, NBA, and more! We'd love you to let us know what your favorite ESPN show is in the comments below!
  How to watch Formula 1
  How to unblock Spotify songs
  How to watch DAZN
  How to watch UFC fight online