So, you just purchased a D-Link router and now you're ready to get your fast Wi-Fi up and running. Thanks to D-Link's Quick Router Setup process, it should be a piece of cake. But just in case you'd like some extra help, this blog explains the entire process and even provides links to helpful resources.
  What You Should Expect to See in the Box
  Although older devices may include a setup wizard CD instead of a Wi-Fi configuration card, your box should include:
  Router
  Power adapter
  Ethernet cable
  Wi-Fi Configuration Card
  Quick Install Guide
  Before you Begin
  Users with DSL providers – If you are using a ?connection, you will need your PPPoE username and password. If you do not have this information, contact your Internet service provider (ISP). Do not proceed until you have this information.
  Users with Cable providers – Make sure you unplug the power to your modem. In some cases, you may need to turn it off for up to 5 minutes.
  Users with a Modem/Router Combo – If your ISP provided you with a modem/router combo, you will need to set it to "bridge" mode so your D-Link router can work properly. Please contact your ISP or refer to the user manual for your modem/router device.
  Quick Setup Instructions
  Step 1: Connect the included power adapter to a wall socket and your router
  Step 2: Connect the Ethernet cable to the WAN (or internet) port of both your modem and router, connecting the two. (WAN ports are normally yellow)
  Step 3: Give it a moment to start up with a light indication
  Step 4: Head to your computer or mobile device
  Step 5: Look in your network preferences and connect to the Wi-Fi Name (SSID) found on the provided Wireless Configuration Card and enter in the password also listed on the card.
  Congratulations! You're connected!
  Is The Quick Setup Not Cutting It? Let's Delve Deeper…?
  Step 1:?Unplug the?Power?to your Cable/DSL Internet Modem
  Step 2:?Connect an Ethernet cable from your computer/laptop to a?LAN?port (Port 1,2,3 or 4) on your router
  Step 3:?Connect your Cable/DSL modem to the?Internet Port?on your router
  Step 4:?Power on both the router and your Internet Cable/DSL Modem
  Step 5:?Open your Internet browser (Internet Explorer/Firefox) and enter?192.168.0.1?into the address bar.
  Step 6:?You should be prompted with the D-Link Quick Router Setup Wizard, Click Next to Begin.
  Note:?This wizard will only appear at the first configuration. If your router has been configured previously, you will need to reset it to go through the setup. To reset your device to default settings, press and hold the reset button (on the back of the router) for 10 seconds and release. The lights on the front of the router should all flash and reboot.?– Return to step 5
  The Router will perform a scan to determine the type of internet service you have. If successful, the Internet Setup will be skipped.
  If the scan was not successful, you will be prompted to select your Internet Type:
  DHCP Connection (Dynamic IP Address) –?Cable Internet Service (Rogers,Shaw,Cogeco, Videotron, Teksavvy)
  Username / Password (PPPoE) –?DSL Internet Service (Bell Sympatico, Teksavvy DSL, Sasktel, Acanac)
  Username: Your Internet username (Provided by your Internet Service Provider)
  Password: Your Internet Password (Provided by your Internet Service Provider)

  Next is your Wireless Settings. Enter a New Wireless Network Name and Password. This password is what you will need when connecting to your wireless signal for the first time.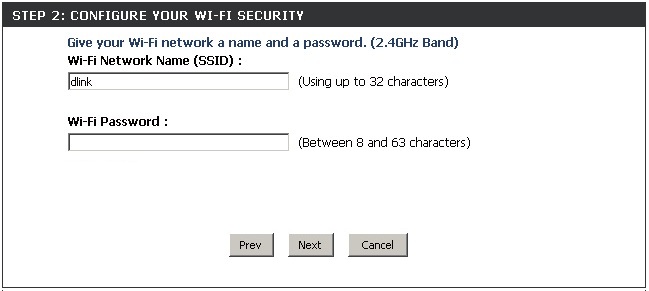 Enter a password for your router. This password is needed when you want to log into the router configuration setup page.
  Note: This is not your wireless password
  Select your Time Zone.

  A summary of your wireless settings is displayed. This includes your wireless network name and your wireless password. Click Save.
  The router will now reboot to apply your new settings and the setup is complete.

  If you still need additional assistance, please visit support.dlink.com to get started on a support path to get things up and running.?