Jump to sections:
  Initial setup: how to install Google Home (Mini) for the first time
  Reset: how to reset Google Home (Mini)
  Connection problems: how to change the Wi-Fi for Google Home (Mini)
  Set up Google Home (Mini)
  Make sure your Wi-Fi signal is good enough while setting up your Google Home (Mini). It's possible that you will need to strengthen your Wi-Fi. Consider setting up a guest Wi-Fi network, if you know your main network contains confidential data.
  Installing Google Home (Mini) for the first time requires a smartphone. The Home app is also available on the App Store.
  The respective assistants of each app will guide you through the installation process step-by-step.
  Google Home Mini must be connected with a Google account. / ? NextPit
  Everything runs through your Google account. Being an Android user with a Google account will speed up many steps of the installation. Google will already know your calendar, contacts and your registered streaming provider.
  Connect Google Home to your Wi-Fi. / ? NextPit
  Google Home (Mini) should ideally be connected to the same Wi-Fi as your other smart home and Google Cast devices. This eases the transfer of streams when you say, for example, 'play Michael Jackson in the living room'.
  If you have guests over, you shouldn't give them access to this network. Doing so will allow them to connect their Google account to your Google Home speaker. Instead, configure a guest network on your router.
  6 months with the Google Home Mini: An imperfect roommate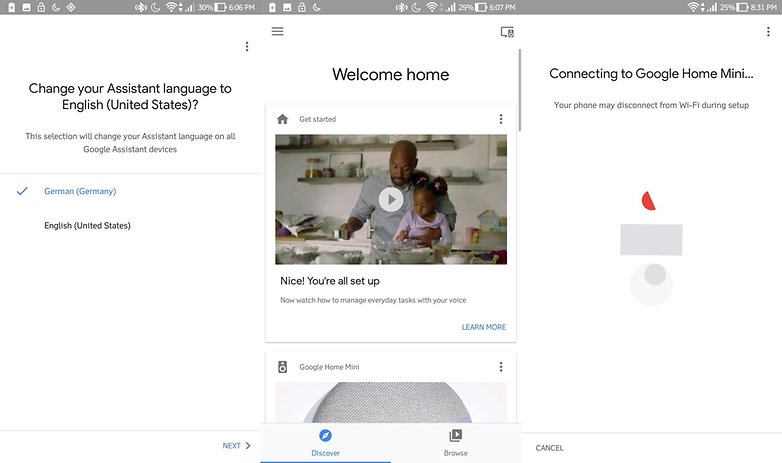 You can choose your language and connect additional speakers. / ? NextPit
  After the simple setup, all activities of the Google Assistant run through your user profile. For the long term you should set up guest access as well as additional user profiles.
  Add a second account
  Everyone sharing the same Wi-Fi network can find the Google Home loudspeaker through the Google Home app, and connect with their Google account. Google Home recognizes the user based on their voice. Every user can connect their own streaming services with Google Assistant. Other users will not be able to access these services.
  Reset Google Home
  With Google Home Mini, the reset button is found on the bottom of the device, near the power cable. Press and hold it down until the Home Mini resets. It can then be programmed like a new device via the app.
  Google Home Mini causing problems? Reset it. / ? NextPit
  Change Wi-Fi for your Google Home Mini
  If you've switched your router, or your Wi-Fi has changed for any reason, you need to inform Google Home Mini. With Google's 'Nearby' function, newer Android smartphones will hear the cry of a recently disconnected Google Home (Mini). The app instructs you how to quickly choose the right Wi-Fi.
  If you still want to change Wi-Fi manually, perhaps to move the Google Home Mini from the main network to the guest network, you need to go into the settings. You can access these settings through the device overview of the Home app.
  Forgetting the Wi-Fi allows you to connect to another network. / ? NextPit
  You'll then be transferred to the main menu of the Home app. Refresh the discover page by dragging its contents to the bottom of the screen. The Home Mini will give you a pop-up a notification, asking for your attention.
  Google Home Mini: what now?
  Explore what the device has to offer! We've already covered how to set up Philips Hue lamps with voice assistants. You can also enjoy it with other assistant-compatible smartphones and wearables. And the list of possible commands grows longer every day.
  For readers who prefer a more visual guide, Google has also provided a setup tutorial video: