An HD antenna is an excellent way to get free television. For some, it can get a little frustrating when your reception of certain channels is poor. More people are starting to rely on their HD antenna to provide content to their television. There are several ways one can fix a bad antenna reception. Here are some tips that should help you get better television reception.
  Improve Your HD Antenna Reception
  Antenna Placement
  The most important way to get better reception is to place your HD antenna in the best spot. This can take some time to figure out. When I first placed my antenna, I realized that for the best reception I had to place it in the attic. In most cases, the higher you place the antenna the better the reception. This may not work for everyone, especially if you live close to the broadcast towers. You may get a great reception from your window. Trees and other houses can also be factors in reception. Try locating your antenna away from these areas if possible. You may have to experiment for a while. Each time you re-position your antenna you will need to re-scan the channels on your TV set. If you are having trouble positioning your HD antenna, I have written an article on how to choose and position your HD antenna.
  Boost The Signal With An Antenna Booster
  In some cases, if your signal is too weak, you can use a signal booster to increase the signal to your television tuner. This can help if your cable length is long from the antenna to your television. Most antennas come with a plug-in power booster that acts in the same way. If you live far away from the broadcast towers, a booster can help. I have noticed a vast improvement in mine. Try experimenting with the antenna booster on and off and see if that improves reception.
  Winegard LNA-200 Boost XT Digital HDTV Preamplifier
  The Winegard LNA-200 Boost XT digital HDTV preamplifier enhances any non-amplified antenna. It delivers a clearer signal, more range, and more available channels. It works with any passive/non-amplified antenna.
  eBay:
  Winegard LNA-200 Boost XT Digital HDTV Preamplifier
  Amazon:
  Winegard LNA-200 Boost XT Digital HDTV Preamplifier
  Cell Phone Tower Interference
  In many cases, cell towers can interfere with your antenna reception. This can be eliminated using an amplifier with filtering. Just place it in-line with your OTA antenna.
  ANTOP Smart Boost Amplifier with Dual Outputs and Adjustable Gain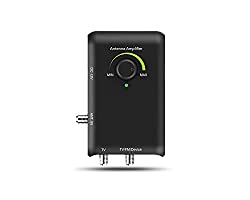 The ANTOP Smart Boost Amplifier is an adjustable gain amp. Not only does it filter out 3G/4G cellphone interference, but it also allows you to adjust the gain output to your television. This can come in handy if you are splitting your antenna signal to multiple TVs. In some cases, powered splitters can over modulate your signal. It is all or nothing and you have no control. This can allow the signal to your TVs to be too strong causing the TV tuner to drop channels. With this device, you can dial in the perfect gain, which can make all the difference.
  ANTOP:
  ANTOP Antenna Amplifier
  Amazon:
  ANTOP Antenna Amplifier
  See our article on how to split an HD antenna signal to multiple televisions.
  If you are looking for a simpler solution Channel Master also makes just the LTE cellphone filter.
  Channel Master LTE Filter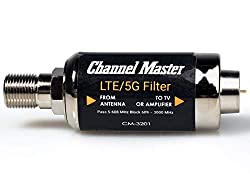 The Channel Master LTE Filter is designed to clear your OTA TV signal path from the common interference created by mobile LTE signals.
  eBay:
  Channel Master LTE Filter
  Amazon:
  Channel Master LTE Filter
  Replace Your Coaxial Cable
  In some cases, swapping out your coaxial cable with a more efficient and better isolated RG-6 cable can give you more channels and better reception. Check to see if you are using poor quality RG-59 cable by looking at the cable itself. It should say it right on the cable. Using better-shielded cable like RG-6 will help with electromagnetic interference and signal noise. In most instances, you should see an improvement.
  Quad Shielded RG6 Coaxial Cable
  These RG6 cables consist of heavy quad-shielding consists of four layers of aluminum foil and braid shielding against electromagnetic interference (EMI) and radio frequency interference (RFI).
  eBay:
  Quad Shielded RG6 Coaxial Cable
  Amazon:
  Quad Shielded RG6 Coaxial Cable
  Try Using Two HD Antennas
  This step can get a little tricky, but I have heard of some people having success by combining two HD antennas into a coupler. If you have two or more antennas laying around you could experiment. Try placing one antenna in the direction of the weaker broadcast tower and the other towards the more powerful one. By coupling the signal you can focus the two antennas into one signal. Make sure to use a coupler and not a splitter.
  Channel Master JOINtenna
  The Channel Master JOINtenna combines coaxial inputs from two individual outdoor TV antennas. This allows for two HD antennas on a single coaxial cable.
  eBay:
  Channel Master JOINtenna
  Amazon:
  Channel Master JOINtenna
  Winegard CC-7870 Antenna Coupler
  The Winegard Antenna Coupler couples two 75ohm leads from any 2 antennas to 75ohm coaxial.
  eBay:
  Winegard Antenna Coupler
  Amazon:
  Winegard Antenna Coupler
  See our article on how to combine two HD antennas for better reception.
  Get a Better TV Tuner
  Not all TV tuners are built the same. I have two televisions in my house. Both are different brand names and I noticed that one tuner picks up different channels better than the other. They are both using the same antenna with a splitter. Some TVs are equipped with better quality tuners. I would stay with quality brand televisions. Do some research on Amazon before buying a new television. You can also use a DVR tuner or the Tablo TV to supplement your bad tuner. These devices allow you to use your old TV and combine it with a better tuner. You can also record all your favorite over the air TV shows.
  Channel Master:
  Channel Master Stream+
  For a Closer Look at The Channel Master Stream+ Click Here.
  Tablo DVR for HDTV Antennas
  Tablo DVR
  See Our Review of The Tablo DVR.
  Buy a Better Antenna
  Another option is to buy a better quality antenna. You may realize that your current antenna is not large enough to obtain all of the channels you want. Maybe the quality of your antenna is not up to par. You can see my article on how to choose the proper HD antenna to make sure you have the correct antenna for your area.
  Conclusion
  Poor antenna reception can be a real hassle. Once you figure out what the problem is, you can enjoy a clear viewing experience. Many of these problems can be avoided by using some of these tips.
  Feature image courtesy of Vlado at FreeDigitalPhotos.net