Is your Samsung account locked when you forget the password, buy a second hand phone, or do an abnormal factory reset?
  If the Samsung phone has been enabled with reactivation lock before, then users cannot get past Samsung account login request screen without Samsung ID and password. But today you will learn how to bypass Samsung account lock without any difficulty.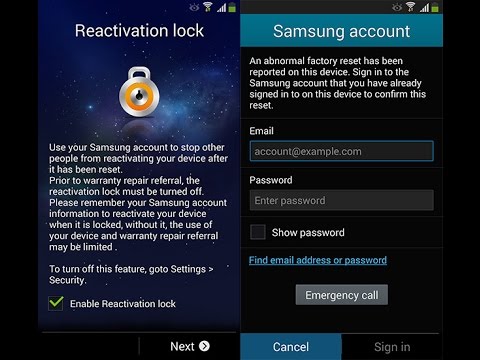 Bypass Samsung account lock
  Read First: Can You Bypass Samsung Account?
  Usually, Samsung account bypass cannot be done without password. We often find that many users ask "how can I recover my Samsung account without a password". You will know the answer after reading the following article. At the same time, some third-party tools will help you out only if you throw money at something.
  Here we will give you a detailed guide on Samsung account bypass, please move on.
  Solution 1: Bypass Samsung Account Lock When it is the Same as Google Account
  If you own the same Samsung account with Google account, you can try to use 4uKey for Android, especially designed to remove with hassle-free way. Apart from Samsung account bypass, what is the second headache you might have? FRP(Factory reset protection) unlock is probably a hard case. So following the below steps to know how to bypass Google account lock on your Samsung phone:
  When you use this method, do not perform interrupted disconnection or drop halfway or you will fail to unlock.
  Solution 2: Bypass Samsung Account Lock with Emergency Call (3 Mins to Read)
  This tip is compliacted and you might need to take some minitues to look through. We couldn't make 100% sure that you can make it.
  This method is to bypass Samsung account lock by using privacy tab. You need to connect your phone with Wi-Fi network during the bypass process and take out SIM card before using. Now let's check it how to do:
  Solution 3: Bypass Samsung Account Via Reactivation Lock Removal Tool
  After you enjoy free ways to bypass Samsung account, now, if you're still unable to unlock, then some paid ways will be vailable to you.
  There are many software that help users to figure out how to delete Samsung account easily. They will provide you the service to unlock the phone, but you have to pay money as per their terms and conditions.
  Some of the unlocking services are as follow:
  The 2 tools only apply to some special circumstances. For example, the cell phone providers electronically lock your cell phone (at the purchase of a plan) to restrict you to their service, and prevent you from going to another provider with the same phone according to Freeunlock official claims.
  Solution 4: Bypass Samsung Account if Forgot Password/ID
  If you mean that you forget your account ID or password when asking about Samsung account bypass, then retrieve your account and password on the Samsung account official website.
  To bypass Samsung account, you can find it back on Samsung account website easily, as shown below:
  Final Thoughts
  In the above article we've talked about how to bypass Samsung account lock. You can choose the easy and convenient solutions that make you work more quick without any problem. You can also use 4uKey for Android to remove Samsung Google lock. This tool is really secure to use, and also supports 99% of the Android phones to remove screen lock just in few minutes due to which 4uKey for Android is highly recommended.
  FAQs
  Actually, it doesn't work. Let's say Samsung. Factory Reset Protection or FRP and Samsung Reactivation lock are both made to prevent your phone being erased by someone others. So even if you factory reset, nothing gonna works.
  As we have recommended 4uKey for Android, you can use it to bypass your Samsung lock screen. If you are using early Samsung phone like Note 3/4, S4/5/6, then you can bypass the lock screen on Samsung without losing data. For other devices, it will cause data loss.