What is PoE IP camera?
  1.1 What is PoE?(read more)
  PoE is a abbreviation of Power over Ethernet.
  PoE?is a cable & switch technology that delivers power and data via a single standard Ethernet cable(Cat5, 5e, 6 cable, etc) to powered devices in remote locations that otherwise lack electrical circuitry.
  1.1 What is PoE IP camera?
  PoE IP cameras, namely Power over Ethernet IP cameras, those cameras can get power and transmit videos through one single Ethernet cable (Cat5, 5e,6 cable, etc).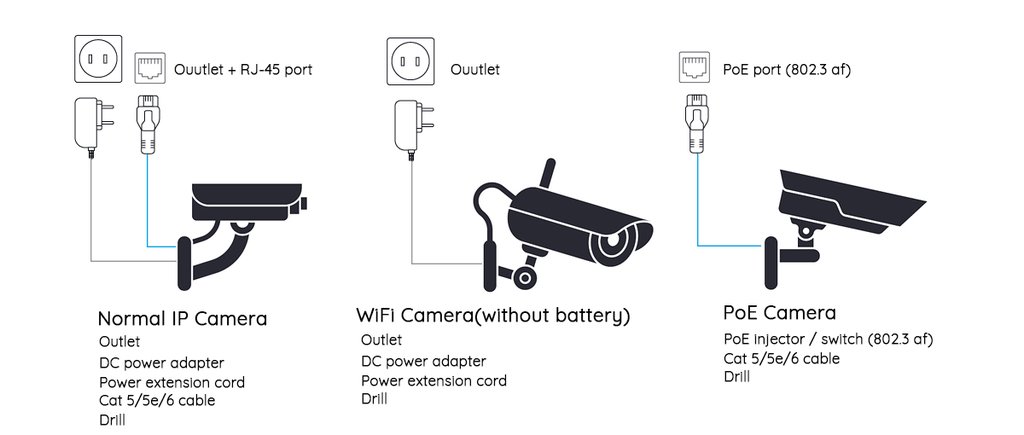 What is the advantages & disadvantages of PoE IP camera?
  2.1 The mail advantages of PoE IP camera.
  Simple installation, reduce your cost on installation
  This is definitely the most advantage of PoE IP camera. With the PoE technology, you just need to install 1 single Ethernet cable. This means you will never need outlet, power adapter and extension cord anymore, and the hole you need to punch on the wall is smaller than those normal IP camera and Wi-Fi camera that work with DC power adapter.
  The installation will be much easier and you can save money that pay on the outlet, power adapter and extension cord and electrician installation.
  ?
  More stable connection & safer
  PoE switch only transmit power supply when it detects the connection of PoE-enabled devices. This can avoid the risk of leakage.
  With wired connection, the data transmission rate and stability of PoE cameras are much better than Wi-Fi cameras, especially in those areas when your camera is away from the router or there is a wall between them.
  In those areas, the connection between the Wi-Fi cameras and the router will always become unstable, the video will have a serious delay, sometimes it will freeze.
  With PoE cameras, you never need to worry about this. Since the PoE transmission range is 328ft (100mtrs), you can install your PoE camera at anywhere that the Ethernet cable can reach.
  2.2 The disadvantages of PoE.
  Power insufficient for specific devices.
  The maximum output power of 802.3af PoE standard is below 15.4W, this is sufficient to provide power supply for most of IP cameras.
  However, when you want to get a network PTZ camera that has high power consumption, you need to be cautious, this output power is not sufficient. You need to select those devices that meet the IEEE802.3at standard, we will discuss this in the future.
  ?
  2, Centralized risk.
  Generally, a PoE switch connects to multiple IP cameras, so if there was something wrong with the PoE switch, all IP cameras may stop working.
  Anyway, PoE technology has been developed for many years, now PoE technology?is in mature stage.?With right PoE switch and right Ethernet cable, the maintenance of PoE security system is Convenient?.
  ?
  *advice on cable selecting.
  Be cautious when you buying Ethernet cable for PoE cameras,
  Please make sure the Ethernet cable you got is standard Cat5, 5e, 6 cable.
  There are some non-standard Ethernet network cables selling in the market, they are produced not strictly in accordance with the requirements of the standard network cable. The resistance of these cables is big, not suitable for POE devices.
  How to set up PoE IP camera?
  There are 3 solutions to setup your PoE camera.
  ?
  Solution1, PoE camera – Router with PoE function
  If your router carries PoE port, it's a plug & Play solution for you to start a PoE security system. You only need to connect your PoE camera to the PoE port of the router.
  Solution 2: PoE camera – PoE injector/PoE switch – Router without PoE
  If PoE port is not available for your router, you will need to connect your PoE camera to a powered PoE injector/switch that connects to your router. But NOT connect your camera directly to the LAN port of the router.
  Solution 3: PoE camera– PoE NVR – Router without PoE
  If you got a PoE NVR, this will also be a plug & play solution, what you need to do is just connect the PoE camera to the PoE port of your PoE NVR.
  ?
  Please note: There may be compatibility issues when your camera and NVR are not from the same brand. Inquiry the seller to make sure the camera will be compatible with your NVR before you buy them.
  ?
  How to setup BESDERSEC PoE camera in CMS software.
  If you got PoE cameras from BESDERSEC, and has set up your PoE system with solution1 or solution 2, the below video will show you how to setup the camera in CMS software.
  https://www.youtube.com/watch?v=fng_tmilbDc
  *Please hit the below link to get the CMS software for free.
  https://drive.google.com/file/d/1PL49jpFt2khTWeW9kc9DADvCyzTacrwu/view
  ?
  How to access BESDERSEC PoE camera with Third-party Onvif software.
  BESDERSEC PoE cameras support Onvif protocol, you can link BEDERSEC PoE camera to Third-Party Onvif software(Blue Iris, iSPY, Onvif Device Manager etc).
  The below information may help.
  ONVIF 2.0 Port 8899 ;
  RTSP Port 554 ;
  HTTP Port 80;
  Media Port 34567
  RTSP URL: rtsp://$(IP):$(PORT)/user=$(USER)&password=$(PWD)&channel=$(Channel)&stream=$(Stream).sdp?real_stream
  Example:
  rtsp://10.6.10.25:554/user=admin&password=&channel=1&stream=0.sdp?real_stream
  ?
  You can also hit the below link to watch a video, it shows how to setup BESDERSEC Wired IP Cameras in CMS step-by-step.
  https://www.youtube.com/watch?v=fng_tmilbDc
  ?
  And please feel free to contact our customer support at besderteam@gmail.com at any time if you need more support.
  We are always here, happy to help you.
  ******Thank You for Reading Thru This Article******
  ?
  ?
  ?
  ?